Increase the ROI of your Business by using Facebook Remarketing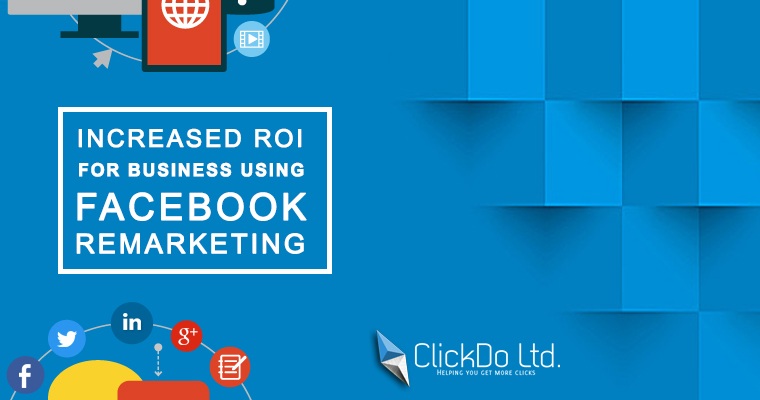 Facebook Remarketing is the way of retargeting the customers who have visited your website previously. This can be done by integrating the Facebook Pixel with your website.
Facebook Pixel in your website will keep track of all the users who are visiting your website and the Facebook Id's associated with them. Later by using the Pixel data, you can retarget the users on Facebook.
Increase your ROI:
Many people don't avail service from you or buy the product from your website when they visit for the first time. Users will take some time to buy the product or avail services.
Before buying any product user will visit multiple websites, compare the pricing on each site and will take the decision based upon them. Hence when the user lands on your site you should follow them wherever they go by using the Remarketing Ads.
How will Remarketing help to increase the sales?
When the user visits your site and bounces back without making any purchase. Then you can show the custom offer Ad for the particular specific users who have visited your website.
Most of the people will tend to make the purchase when they see the Ad about the products or services what they are looking for. Even the conversion rate may increase if you provide some offer for them.
Will Suit for all kind of business?
Well, the answer is Yes. Most business people think that remarketing is going to suit for only the E-Commerce sales. But the fact is that it is going to help all kind of business to get more conversions if it is planned well and executed in a strategic way.
We at ClickDo work with clients from multiple verticals. We do the best plan for Remarketing & also execute them in a more strategic way to get more ROI.
Benefits of Facebook Remarketing:
Get more brand outreach
Get more ROI
Fine-tuned targeting
Target wide range of mobile audience
Increase in Conversion rate
Target the potential audience
Thus by using the Facebook Remarketing, you can increase the conversion rate of your business.
Learn the Facebook Remarketing & plan your own strategy for your business. Get instant access to the Facebook Remarketing course by ClickDo – https://www.go.clickdoacademy.com/facebook-re-marketing-course
Share to spread the knowledge!