How a well done research can help you dominate PPC Advertising in any Niche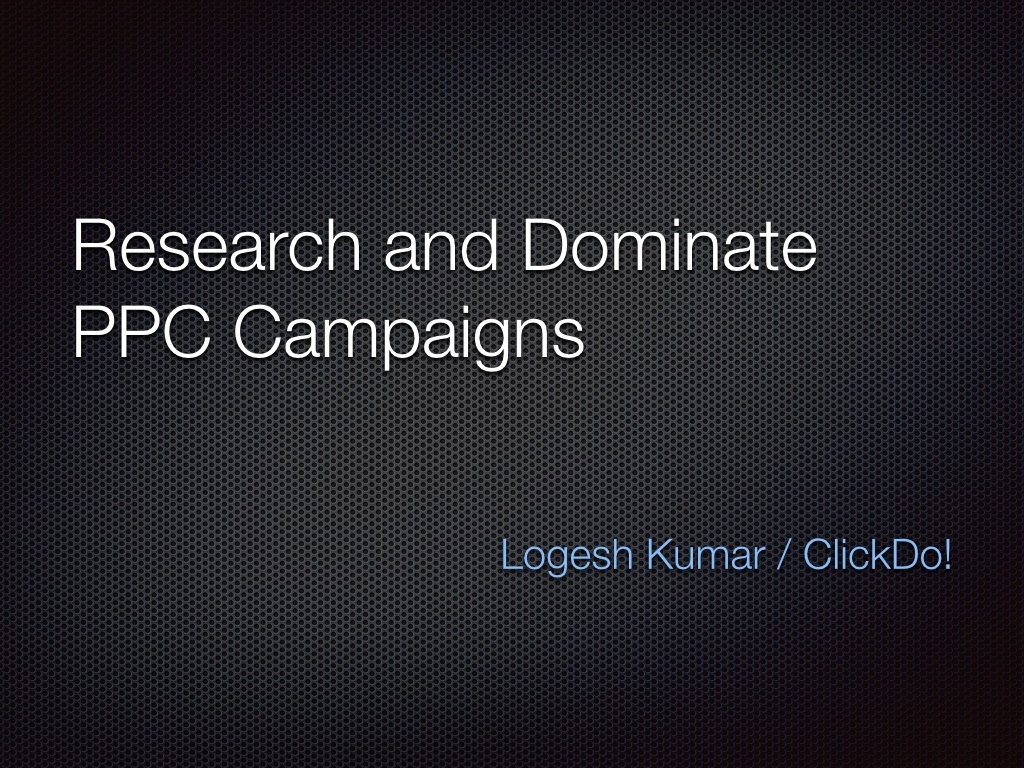 PPC Advertising is not just burning the Money! It's a game.
Every form of traffic generation is an Art! Let it be SEO / SEO or PPC. Every form of traffic generation has it's own pro's and con's. Today, I will share some insights on how deep researching before PPC deployment would help you in the long run!
Why should I research?
That's the strong question that you have in mind right now. It's not just about creating a campaign in AdWords and driving traffic. It's about Targeted Traffic that would give a conversion.
How to Target?
This section depends on the industry and your target audience. Let's consider Dental industry in this case. There are two types of searches.
People looking for NHS
People looking for Private Dentist / Orthodontist
There is no point in driving traffic if the user is looking for NHS. Hence, your PPC money is just getting wasted. To understand this scenario, you must analyse and research the niche (in our example, dentist niche) and identify that people who prefer NHS would not convert even if you land them on your private dentist client website.
How to drive Targeted Traffic?
This is the next challenge. Now we have identified that there are 2 types of audience. Now, we have to make sure that the people who's intention to take NHS do not click on our ads!
We can't just force them not to click! But, we can psychologically trigger them not to click. This is technically called as "Ad-Relevancy". Let's see two examples of Ad-Titles:
Looking for an Orthodontist? — We are the Best in London
The Best Private Orthodontist — Check our Pricing Now
The First Ad Title is more generic and its written without having the targeted audience in mind. On the other hand, the second Ad Title will trigger the users who are having the mindset to opt-in for a Private Orthodontist (more targeted).
The Client (for whom the PPC AdWords is being run) will benefit only from the Second Ad Title. Even though the Ads flood only minimal traffic, they are highly targeted!
How to get the conversions?
We have worked so hard to research and drive the best traffic to the orthodontist! Now, how to make sure that the users are getting in touch with the orthodontist!
Pro Tip: When Kasun builds the website, the website is a conversion Machine!
We must make sure there are multiple ways for the user to get in touch with the practice. It may be a old-school Contact Form or a Modern Live chat system. When you check the websites built by ClickDo, we clearly present the USP of the Orthodontist right away on the Landing page to make sure the customer is aware about the experience and advanced equipments available at the practice. This is one of the critical points our competitors are missing a lot!
How to Automate this for your website?
Whether you are are an Orthodontist (or) you belong to any niche, if you require a deep research for your PPC Campaigns and target the right Audience, get in touch with us!
We will make your competition Cry!
Author Profile

Logesh Kumar, Senior SEO Consultant at ClickDo Ltd. Get connected on Google+.