How To Reduce Bounce Rate & Improve Ranks On Google SERP?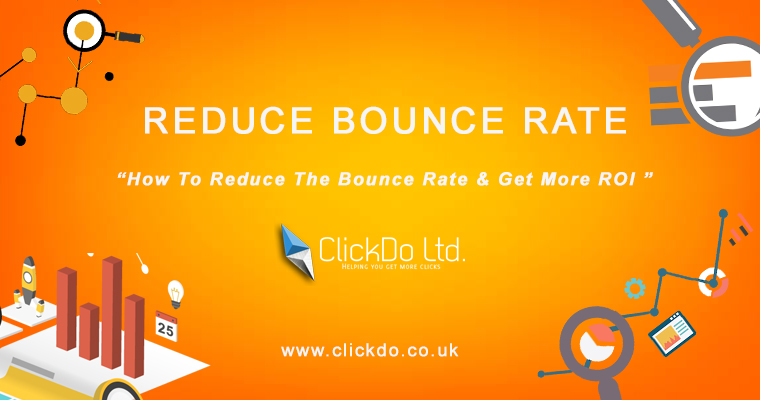 What is Bounce Rate?
Bounce rate is the average single page session by the users on your website. It is calculated by dividing the single-page session by total page sessions. Usually, the bounce rate on the analytics is triggered if the users visit your web page and bounce back to the SERP quickly without making any interaction.

Is High Bounce Rate a Negative Signal?
It depends,
If your website's conversion depends on users visiting more pages, Then the high bounce rate will literally effect you. If the users land on the home page, then the user should navigate to other pages to avail any service or buy products from you. Instead, users bouncing back to the SERP will affect your sales.
How to reduce the bounce rate?
There are significantly many ways to reduce the bounce rate.
Add some attractive content on your landing page
Add more media like Videos & Images
Make the users engage with your site
Avoid Pop-ups & Don't distract the users

Less Bounce Rate! More ROI!
Reducing the bounce rate of the site will help you get more ROI. Reducing the bounce rate in the sense, You are making the users to engage with our website for more time. When the users spend more time on our website, then he/she will literally avail services from you.
We at ClickDo worked in a very strategic way to reduce the bounce rate of the "69dropsstudio" website. Our plan worked well and we reached incredible bounce rate reduction.

69dropsstudio site has the average user session duration of 3:08 minutes and the bounce rate of only 3.85%. this makes the site to rank for top-notch search terms on Google's SERP.
Thus being a website owner or an SEO Consultant, spend some time to reduce the bounce rate of the website. As it will help you to improve the ranks on the SERP and get more ROI.
Author Profile

I'm an SEO Analyst and blogger outreach expert at ClickDo Ltd. & Expert at Building High Authority Local Citations, Also, I help Business Owners in the UK by flooding more Leads to their Business by ranking their website on top of Google for potential Keywords.

I'm an author and enjoys writing UK business blogs to help promote UK businesses online. You can also contact me for guest posting services as I manage over 100 top UK business websites.