Three main pillars of SEO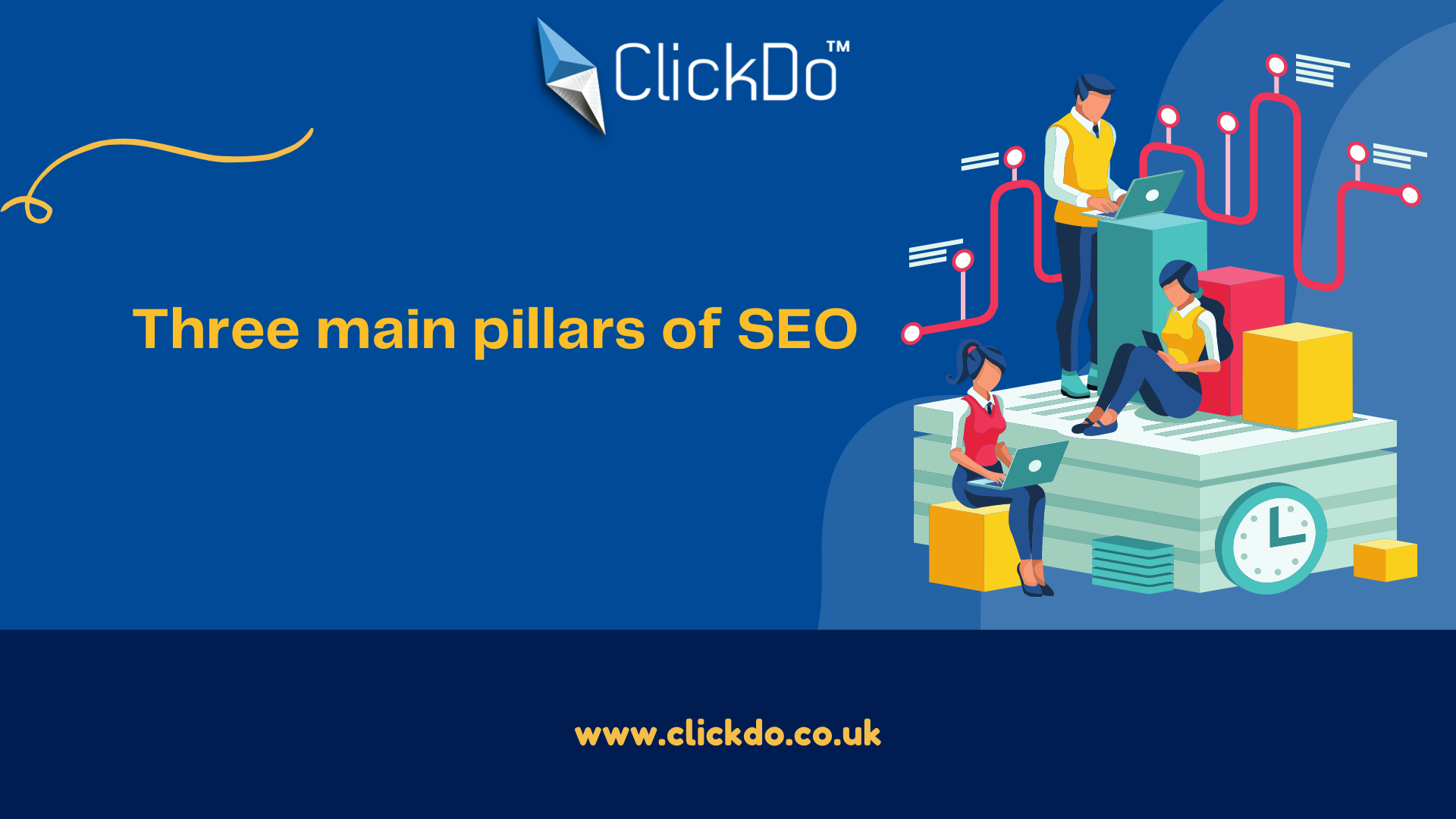 Most Marketers always concentrate on high-quality content, link-building strategies, keyword optimization, speed optimization, and so on. But when it comes to SEO, we should need to focus deeply on what are the factors that give more results and push your page for ranking. Businesses, Searchers, and Search Engines are considered as three main pillars of SEO. Each of these pillars has its own needs and benefits.
The 3 main pillars of SEO
Business
Searchers
Search Engine
Business
Let's start with business first. Business is the main factor, that brings all necessary ideas and key terms like how to improve it among its competitors and how to reach more target audience through an organic search. In business, you have to concentrate on
Key metrics and goals
Any activities doing without fixing any goal in business is like wasting your precious time. If you are serious about SEO, then you need to set any goal for your business. Here the goal is your business goal that determines the marketing goals, SEO goals. If you set your goal as to how to get more traffic, then you should focus on your content or else if your goal is to get more leads, then you need to focus on the products list. Here the content and leads are the key metrics.
Competitors
The competitors are also one of the important factors, you should really consider. Many people are knowing their direct competitors, with the help they're of product and services.
When it comes to SEO concentrate more on informational competitors, so you can concentrate of new things to target your ideal audience. So, considering a competitor is best for business setup.
Area of expertise
Area of expertise is all about, what you are expert at? to provide that information to your customers to compete with your business goal and reach your target audience.

Brand identity
Brand Identity is your business recognition and to determine on which area you need to consider for further reach.  No matter how far your content is and how trendy it was. If it doesn't compile with your brand, then there is no value for it.
Searchers
Searchers are your audience for your website. So, while doing SEO you need to focus on what are the type of people's attention you must bring to your website. There is no value in building any content blindly without reaching people. So, starting an optimization looking back at your audience is a must. In searchers we have a different persona for you, Let's see them in detail
Search Intent
Search intent is based on what your customer exactly looking for in your website. For that, you have set the right keywords after doing keyword research, pick the best keyword to see the results on the top position of the search engine. After finishing the keyword research, create high-quality content based on the chosen keywords to satisfy the searcher's intent.

Psychological factors
Whenever you are creating content, give importance to the audience's emotion, psychology factors, economic factors, and the things that affect your audience.
Trust
Trust and brand identity also affect your audience in some terms. So, create content to build more trust among your audience. For that include contact details, testimonials, and more live results to make people get familiar with your brand.
Search engines
To get the best results for SEO, you should need to understand the search engines well. For that, you need to consider the below things
 E-A-T
E-A-T, expertise, authoritativeness, and trust. Search engines give more importance to it. Make sure your website is displaying the positive signals for these three factors. Click here to know more about E-A-T in SEO
Schemas
Schemas have a great advantage that helps search engines to understand your website very and also helps to boost up your website in SERP ranking. So it's better to take advantage of schema to appear best on Search Engines.
Indexability
Your website should be indexable to the search engine without any errors in HTML and JavaScript. Make sure all your pages on your website are get crawled by the Google bots and delete the pages that have no value.  Build your website with the right architecture to attain great indexability.
Final Words
All your SEO works depend on these 3 pillars. So, whenever you are doing SEO give importance to these three pillars and build SEO strategies according to your Businesses, Searchers, and Search Engine.
Author Profile

Jr. SEO Consultant, Blogger, & Content Specialist. Passion for writing in SEO, Digital Marketing & Tech-related Niches.