Top 5 Best CMS That You Should Use for Business Website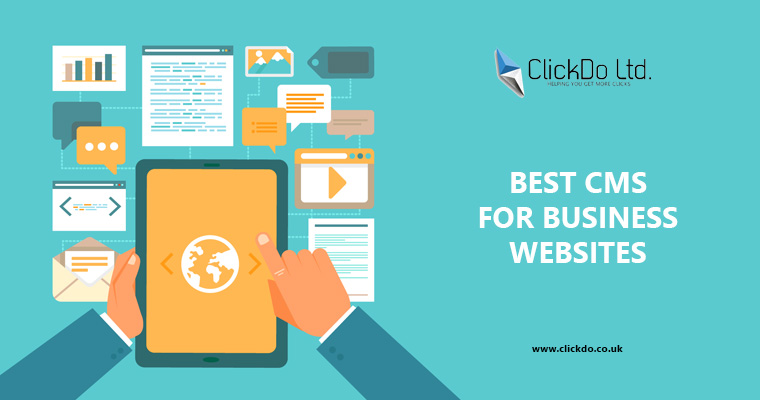 Want to know the top 5 CMS That You Should Use for Business Website? – Then let's get to know the best 5 content management systems for your business website.
The days are getting easy for the lazy with the technologies. In this scenario, CMS [Content Management System] has made website designing easy for most of them to build a complete website in a day or two. We do agree that a hard-coded website can make more impact than creating one with the CMS, but it helps for small business websites in time consumption and cost evaluation. Let's see what are the top content management system you can use to build your business website with the great professional look.

WordPress:

As always, WordPress keeps its top position among the other CMS. The most important for people to consider this as their first preference is, it is user-friendly for both the users and search engines. It gives an endless customization option with varied tools to make a website responsive enough to the user. You can also check the WordPress help & support services website for more information.

Hubspot:

Hubspot is highly considered by small marketing business, because of it's easy understanding and out-of-box tools. The range of speed on keeping requests in mind, since it is a hosted platform. The benefit of the doubt in Hubspot is its shorthand in customization.

Squarespace:

The purpose of using Squarespace is to minimize the efforts of building a website and keep it as simple as possible. The simplicity comes along with the cost if customizing a website. People started to look for other platforms when they don't want to compromise on customization.

Drupal:

In opposite to Squarespace, Drupal gives the space for developers to do as much as customizations as possible. Since it has too much customization options, user-friendliness highly reduces and takes time for learning it to turn in and out.

Joomla:

People who prefer e-commerce will know about Joomla and its capability. This platform has already inherited with too many tools for customization. Joomla is an average ranking person in the class of WordPress and Drupal when you consider its ease of use.
We didn't mention Wix, because we thought the Wix is not SEO friendly until we did the Wix SEO review.
With all that being said, our best recommendation is for you is to register a domain name for your business website st SeekaHost and host it on WordPress and start a self hosted WordPress website.
Author Profile

Guest blogger and blogger outreach services expert and contributor for UK Tech Blog as a UK Tech Blogger, and one among The Vibrant #1 SEO Team in London. I Also work at SeekaHost as a web hosting services specialist and Guest blogger for SeekaHost UK

My Moto is Keep Pushing - Let The Dam Breaks And Spills Where You Want It To Be!