Why ClickDo is the best consultancy agency for the Rubbish Removal Industry in the UK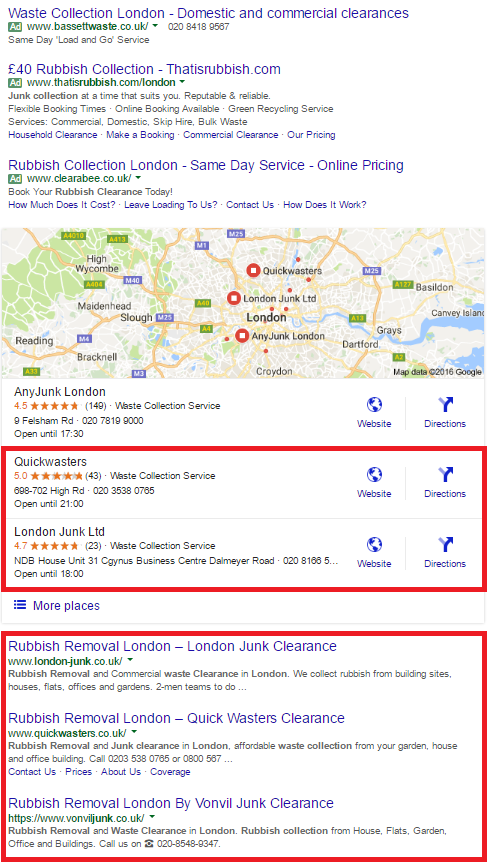 Owning or running a waste removal business is a tough industry to be in with many companies competing for the same customers in their local area or city. Also on the rise is the emergence of small van and man businesses which may try to undercut the larger firms due to having less employees and no business premises.
Households and business owners will always need unwanted waste removed from their home or premises, so the demand is at a constant high at most times of the year.
It is also a legal requirement for business owners to have waste properly disposed from their premises in a safe and environmentally friendly manner.
There are a few hundred rubbish removal companies in London alone so the competition is fierce. It is vital to have a very strong online presence and have your website in front of the searchers that are looking for the services that you provide. This will enable you stay ahead of your competitors and keep your phone ringing.
At present the current Monthly search volume for rubbish removal services are vast. The phrases in London are for the most competitive terms in the industry and combined together the search volumes go into the thousands.
At ClickDo we have dominated the rubbish removal industry for a number of years, taking our clients to the top spots in Google and currently own the top three slots for the most searched for and difficult terms in London.
We have worked with the company Quickwasters in London for 2 years and they have enjoyed top rankings for their chosen keywords throughout, resulting I their phone ringing for business on a constant basis.
After securing these terms for our clients in the capital, we are looking help other waste clearance companies outside of London grow their business by using the same methods to dominate cities such as Birmingham, Manchester and Leeds. We are also experts at ranking in Google maps our clients rank for their desired keywords.
Our results are there for all to see and you can double check these by searching these terms yourself. We strongly believe that as a reputable SEO agency you need to be able to demonstrate that you are able to provide the services that you promote and prove that you can deliver.
We rank in our own websites for the most competitive related terms in the United Kingdom and must stay up to date with current trends and ahead of the game. This in turn benefits our clients
Buy working with us, your company's website will benefit from the exact safe and friendly strategies that we use to rank our own sites and current clients. This will boost your Search Engine visibility and push your site to the top of the rankings.
If you already own a website, we will go through it with a fine tooth comb to spot any errors or flaws that it may harm its chances of competing in the search results. These errors will be corrected by one of our SEO consultants to maximise its chances of getting the views that it deserves.
We optimise each client's site by compiling a detailed keyword report and optimising the pages for these phrases. We then structure the site choosing the correct titles tags, descriptions and images. We then provide quality content that engages the audience and encourages people to read, like and share on the major social media platforms.
We are able to send you regular reporting on the site performance so you can check the progress of your rankings. This can be done on a weekly, fortnightly or on a monthly basis to track the performance of your keywords.
If you do not have a website, we also build custom websites that are fully optimised for your business related keywords and fully Google compliant.
We work closely with our clients in in a variety of different industries. For instance, we work with Orthodontists, Lawyers and Photographers to mention a few and we have gained top spots for these sites for the most competitive phases related to their businesses.
To see how we can help you and you, build your brand and increase its exposure you can get in touch via our contact page, arrange a Skype call or book an appointment to visit us in our Canary Wharf office where we can discuss your website needs in detail.
Watch the video below to see an example of what we can do for you!
Share to spread the knowledge!