On Page SEO Checklist 2019: On Page SEO Audit Techniques To Boost Ranks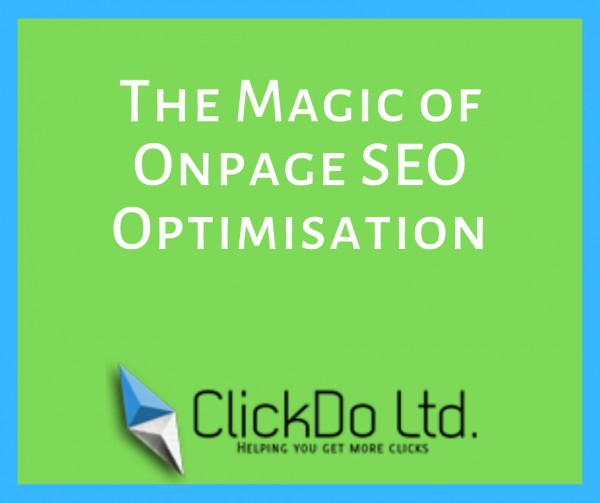 This article is an On page SEO Optimisation Checklist – all the most important factors that we as an agency come across time and time again. Get these things right and you will be ahead of your competition.
You may have heard the phrase 'content is king', and it is quite true.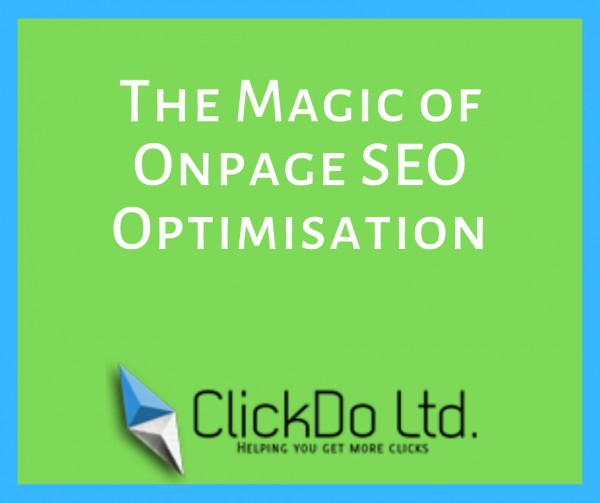 Good content on your website will
Help Google understand what your website is about

Help users to find the answers they are looking for on your website

Flow nicely so they stay on your website longer

Get people to become a prospect or a customer
So this is why content is king – it is the foundation of any good website on the internet.
The Best On page SEO Tools
As you can see from the image below ClickDo have the best content rating for the search term SEO Consultant – according to our content analysis tool Cognitive SEO.

You can also see that as a general rule the better the content the higher the website ranks for that search term.
If you look at the content rating for the top websites for this keyword you can see higher quality content gets ranked higher and lower quality content gets ranked lower.
Good content will help with dwell time which is how long someone stays on your website. Google uses dwell time to figure out if your website is good or not. So you want to make your website have lots of interesting aspects to it.
For more on this read our article on dwell time.
Of course, there is a multitude of other factors involved like how many good quality backlinks are going to the website, how old it is, the user experience and many more factors.
There is also technical onpage optimisation which is things like page speed, and error fixing and just generally getting your website in line with Google's standard practice rules for websites.
When it comes to technical onpage SEO you want to make sure you have the following sorted out
Make sure you have Image ALT tags
Make sure your images are 50kb's or less
Make sure you have meta titles and meta descriptions on each of your pages
Make sure you have your site set as HTTPS
Make sure you have no 404 errors and you redirect old pages using a 301 redirect to your new pages
Make sure you have at least one H1 and H2 title for each page (and only one H1 per page)
Make sure you have your keywords in your titles and your content
The way to check these is with a great tool called Screaming Frog, simply put your website in and it will tell you what issues you have to fix from the list above.
You will also need a plugin to add your meta titles and meta descriptions to each page which a couple of good ones are
All in One SEO and SEO Press.
Onpage optimisation is the foundation for any good SEO campaign and will help you rank higher in the search results.
Page Speed Load Time Optimisation
One of the most common issues we find with most websites is that their website loads really slowly, or at not as fast as it could be loading.
You have to imagine the guy at the bus stop on his mobile 4G internet.
If you have a slow loading website and it take 10 seconds to load a page, will that guy at the bus stop stay on your website or will he go back to Google and go to your competitor?
This is why having a quick load time is important.
You can check how fast your website is at GT Metrix.
It will show you why your page is loading slow and what you can do about it.
For example below is an image of the number 1 lawyers in London

As you can see they have a slow website and they are getting bad ratings on their performance scores.
This company ranks number 1 on Google for London lawyers, so page speed isn't the be all and end all when it comes to ranking on Google.
But from a user experience perspective it is quite important.
Slater Gordon Lawyers could do with having a look at improving their page speed.
A few good tips to improve your pagespeed
Get a cache plugin for your WordPress website like W3 Total Cache or WP Super Cache
Reduce the size of your images (images should be 50kb's in size or less) with Reduce Images or Image Resize

Reduce the amount of embeds like videos and maps on your pages

Get premium hosting on a fast hosting service like Siteground or Seekahost
There are lots of little technical things we could go into but just doing these 3 will put you in a better position page speed wise than your competition.
Schema Markup On page Optimisation
So the last most common issue we find with websites is that it has no Schema markup.
Schema markup is a language that Google reads and it is basically its native language.
So if you have Schema Markup on your website you are basically talking to Google in the language it likes to have a conversation in.
If you are one of the few people in a crowd of people who are speaking Google's native language
Do you think you will have a higher chance of being noticed and get more priority in the search rankings?
The answer is a sort of yes.
It is just one factor of hundreds of factors that Google takes into consideration when ranking websites.
But you can be sure that Google will appreciate you taking the time and the effort to communicate in the language they prefer most.
If according to Google your website and your competition's website was equal in everything that it takes into consideration, but you have Schema Markup on your website.
Then Google will put you above your competition in the search engine results.
So think of Schema Markup as the cherry on the cake.
Once you have done everything else right, it is good to add Schema to your website.
If you want to do it yourself you can go to a Schema Markup Generator Website and simply fill out your details. 
You want Local Business Schema, Website Schema, and Organisation Schema.
You then need to put the Schema codes that it gives you onto your website.
Which you do that by adding it into the head section of your website.
To add it to the head section simply go to Appearance then your Theme Editor
Then find the Theme Header on the right hand side.
Then find the place where </head> is and paste your Schema code above there.

So this is how you do Local Business Schema, Organisation Schema, and Website Schema.
However, you can also add Schema on particular pages  
For example, you may have a contact us page – so you can add Contact Us Page Schema.
Or you may have some products or reviews so you can have Product Schema or Review Schema on your page.
To add unique Schema to particular page download a WordPress plugin by typing in 'SOGO header' like in the image below.

Then simply go to that plugin and add the code from the Schema Markup Generator and your done.
You need to go to the page you want to add Schema Markup to, then scroll to the bottom of the page to underneath where you write your content.
That is where you will find the add script to the header of the page box.

This is great when you want to add unique Schema to a page for that particular page.
If you would like us to take care of your Schema Markup so you can concentrate on doing what you do best – which is running your business. Then will happily do that for you.
Related On page SEO Optimisation Articles
Top 5 On Page SEO Techniques that You're Probably Not Doing
Quickest Way to Boost Your Rankings as a Beginner
Internal Links vs External Links in SEO
Interlinking Structure – Best Metrics to Boost Your SEO
Meta Description – Are they still a ranking factor in SEO?
Author Profile

I take care of ClickDo Ltd. Birmingham SEO Clients - I help businesses grow online with the latest SEO services & digital marketing strategies. Personally, I like to work with a small number of clients and focus intensely on those projects. This allows me to have the time to constantly be keeping up with the latest trends in Google.
Share to spread the knowledge!