Google Algorithm Update June July 2021 – Everything Explained!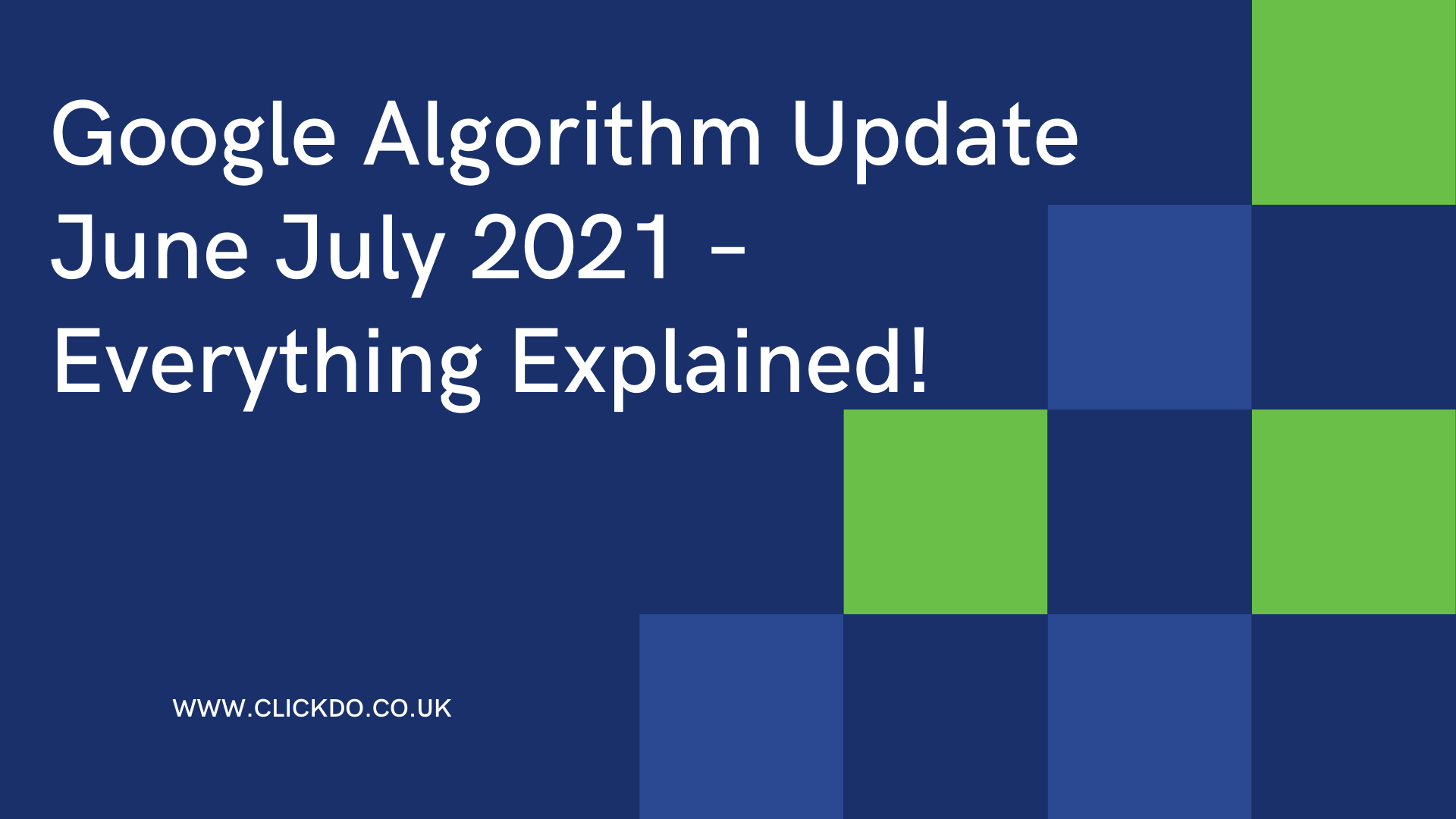 Google has announced that it will soon make a landslide impact on search engines with the rollout of the June/July 2021 major update being started. The official Twitter page of SearchLiaison made an official announcement of the same with all the other details being similar to other core updates.
Websites will start experiencing fluctuations in a day or two even though the update might take one or two weeks for completing the entire rollout, considering the common pattern. These core updates are mostly going to focus on high-quality relevant content on the website.
When there is a drop or fall in the ranking of your website that means some other website has content more reliable than the content present on your website and not because it has any major flaws. And so now Google is focusing more on high-quality relevant content.
Core Update Rollout June 2021
The first broad core update and the most anticipated update of June 2021 has started the rollout as announced by Google. December 2020 was the last time a core update was announced by Google. The three months pattern was followed by the rollout of core updates and so Google decided to break the stereotype and utilized six months in total to roll out the last update.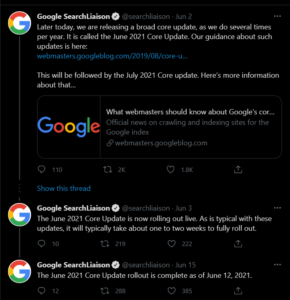 Just like always, the core updates definition remains unchanged. The intention behind releasing the core updates is to serve authoritative and relevant content to viewers. The only motive behind this update is to help those websites which failed to rank even after offering authoritative and quality content.
This update has been rolled out in parts by Google. The reason behind it is that a few proposed update-modules have not been made ready yet and so the team is obliged to roll out these updates in parts.
Well, the good news here is that a core update is announced to be released this month i.e July 2021 as stated by Google. The impact of the updates will lead to reshuffling of SERP (search engine rank page) rankings in a few days, which is quite normal as Google has been keen on providing more relevant search results to its users.
If you own a website and observe a fall in rankings, then make sure you update your content and make it more relevant and authoritative in comparison with your competitors. The update is purely based on search result relevance and other factors.
Also note that post weeks of the completion of the core updates, a roll-back update takes place usually. We also suggest you wait till then if you observe fluctuation or drop in your website ranking and do not indulge in making any incremental changes to your website.
Google has however finished the product review update rollout that had been primarily announced on April 8th, 2021. Danny Sulivan from Google says about the new search algorithm stating "Caveat is with any update, you can still sometimes have some edge case lingering. But effectively done."
The product review update emphasized the need to satisfy user intent as well as the quality content metric. However, on April 22nd, 2021 the full product review update was rolled out.
Sites featuring product reviews have not been directly penalized by Google and sounds more like a penalty when much more relevant-content sites show up on search results and your website is pushed down the lane of ranking.
Spam Update
Google announced the rollout of spam updates in the month of June in order to safeguard the search for the users, after the page experience update and June core update.
According to the recent announcements, the first batch of spam updates has been rolled out and has even been concluded within 24 hours of the start of the spam update.
The second batch of spam updates may take place somewhere at the end of June which had been pre-announced by the giant search engine.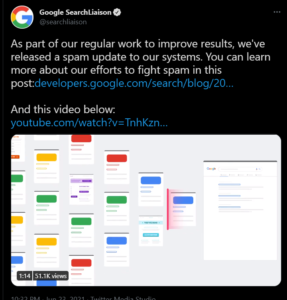 Websites might face huge repercussions of the spam update for sites with deceptive and dubious intentions, even though it does not affect genuine websites.
Google Search Liaison had also tweeted saying "As part of our regular work to improve results, we've released a spam update to our systems."
On June 28th the second batch of spam updates was started and the implications of this spam update remain similar to that of the earlier one. The successful completion of spam updates was announced by Google.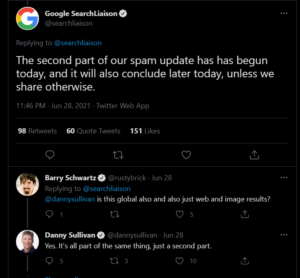 The latest ranking signal page experience is now inducted into the core algorithm by Google which has slowly started rolling out the update, as predicted. "page experience update" had officially christened is expected to complete the rollout by the month of August.
However, it was confirmed by Google that the impact of this rollout can be observed in the search results which initially appear on the top stories.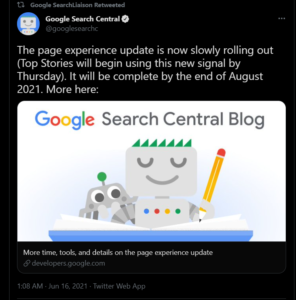 Non-AMP pages will now be shown on the top stories carousel of a mobile version in Google search. This means the news carousel will feature Google News Approved blogs irrespective of the page experience status or score of core web vitals.
So in simple words, the ranking factor like page experience of a website will no longer hold any value at least till August, only the content is what will matter. That means you just have a month in your hand to improve your core web vital metrics, only if working on it.
Page experience is just one among other factors and so changing one metric will not make such a huge difference in the rankings of the websites. It is just a metric that will be used in order to decide which page can be ranked.
The larger division of Google algorithm's major update is the page experience update as well as other ranking elements such as HTTPS, safe browsing, mobile-friendly, etc. all these combined together are known as user experience signals.
People also expect Google to modify a few parts, specifically the AMP badge which can initially be replaced by something that provides users the ability to recognize content that offers a satisfactory user experience.
Author Profile

I'm an SEO Analyst and blogger outreach expert at ClickDo Ltd. & Expert at Building High Authority Local Citations, Also, I help Business Owners in the UK by flooding more Leads to their Business by ranking their website on top of Google for potential Keywords.

I'm an author and enjoys writing UK business blogs to help promote UK businesses online. You can also contact me for guest posting services as I manage over 100 top UK business websites.