How To Get High Quality Backlinks For Free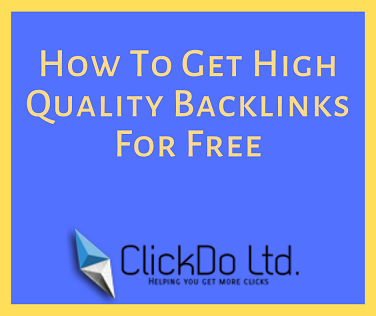 There are many ways to get high quality backlinks for free for your new website. We cover the main 3 ways to get the best links for your website.
High Quality Directory Websites
So the easiest backlinks a business can get is from directories like Yellow Pages, Yelp and Thompson Local.
There are many great directories on the internet and you should be on as many of the good ones as possible because
You never know where your next customer will find you

It is easy backlinks from good trusted websites

It builds a brand across the internet

It gives your business more trust and relevance in Google's eyes

They help you rank in the local search results and in the Google map results
Directory links are always the first place we look to get good foundational links to a website.
Bonus
We have put together the top free local business listing sites UK to get listed on.
There are 3 different kinds of directory links
General directories like Yellow pages –  type in business directories in Google and you will find a lot

Niche relevant directories like Trust a Trader – type in lawyer directories if you are a lawyer or dentist directories if you are a dentist.

Local directories like All in London or Birmingham Post –  type in London directories
The general directories are usually the biggest so give you authority.
The niche relevant directories are specific to your business so give you relevance.
The local directories are specific to your location so they give you trust.
Bonus
We have put together the top free local business listing sites uk to get listed on.
High Authority Niche Relevant Backlinks
We don't think there is '1 thing you can do to rank at the top of Google'
But out of the hundreds of different things you can do, one of the most effective is called Guest Posts.
A guest post is an article on a high powered website that is relevant to your niche.
They are great because
They are high powered so will help build your authority

They are relevant so they help build your trust and relevancy

You can get your keywords in the title and the anchor text

You can choose what the article is about

A good business should be linked to by websites in their industry
We use guest posts for our own website, which is why we rank number 1 for SEO consultant London in Google.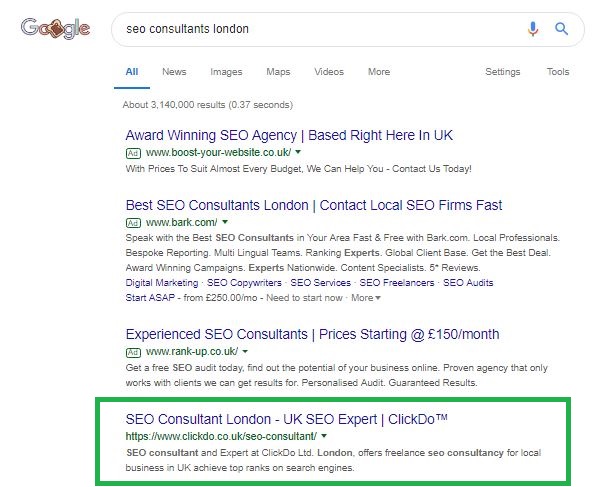 We also use guest posts for our clients which is why they rank at the top of Google.
For example, we just recently ranked Angel Orthodontists who are a London dentist number 2 for the search term Orthodontist London.
This search term gets 1900 searches per month, so they are very happy right now.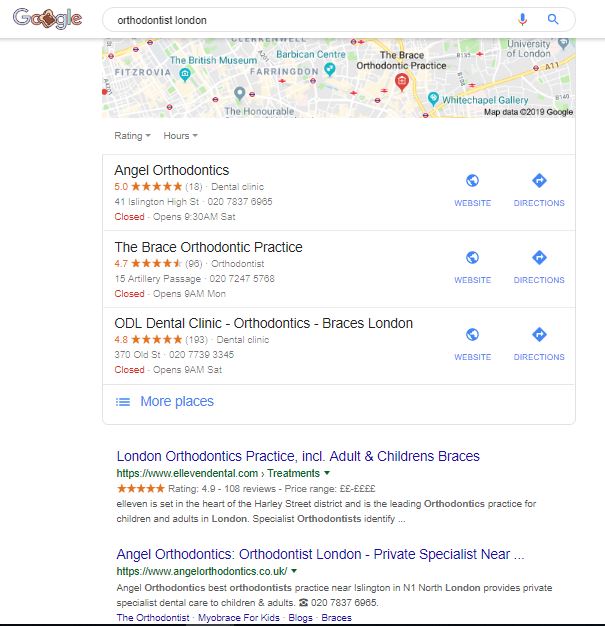 We have a whole load of case studies we can show you, so we made a page with some examples and more information about our Guest Posting Services.
How to find websites to Guest Post on
Go to Google and type in
[keyword] "write for us"
[keyword] "guest post"
[keyword] "Submit an article"
[keyword] "guest blog"
So it will look like

Then simply contact each one through email or their contact form, and ask them how you can get a guest blog on your websites.
You may have to write your own articles or some of them will write one for you. It varies from site to site.
Sometimes they will ask for a fee to post on their website.
But if you get in contact with enough people you will find websites that will happily post good quality niche relevant content for free.
Which means you can with some rolling up your sleeves and putting in the work get high quality backlinks for free.
High Quality Web 2.0 Backlinks
One of the most common missed opportunities that we see on people's websites, is that they have not built a moat around their castle (their website).
What we mean by this is that there are social websites like Facebook, Twitter, Youtube, Pinterest, and Instagram. Most businesses are only on a couple of these.
There are also other websites that we call Web 2.0's – these are simply other places you can put a branded page about your business on.
For example, there are blogging websites like Tumblr, Weebly, WordPress, and Blogger.
One of the most fundamental aspects of your search engine optimisation strategy should be Web 2.0's.
These are websites across the internet that you can get a branded page to put your content on.
When you create a blog post on your website, it can be sent out to all these social websites and Web 2.0 websites.
This gets you easy links which help you rank, and it also makes you look like a serious business in Google's eyes so you will rank higher in the search engines over time.
For a full list of Web 2.0 websites, to get your business on visit Knowem.
Until next time
P.S. If you would like us to do the hard work for you, we are partnered with over 100 business websites in the UK and can manage your guest posting for you. Click Here to see our Guest Posting Service 
Other Link Building Articles
How Guest Posts can be used to build natural links?
How Infographics Helps to Boost Your SEO & Improve the rankings
Do Tumblr Backlinks Still Work
Author Profile

I take care of ClickDo Ltd. SEO Clients - I help businesses grow online with the latest SEO services & digital marketing strategies. Personally, I like to work with a small number of clients and focus intensely on those projects. This allows me to have the time to constantly be keeping up with the latest trends in Google.