How to Use Facebook For Business Growth?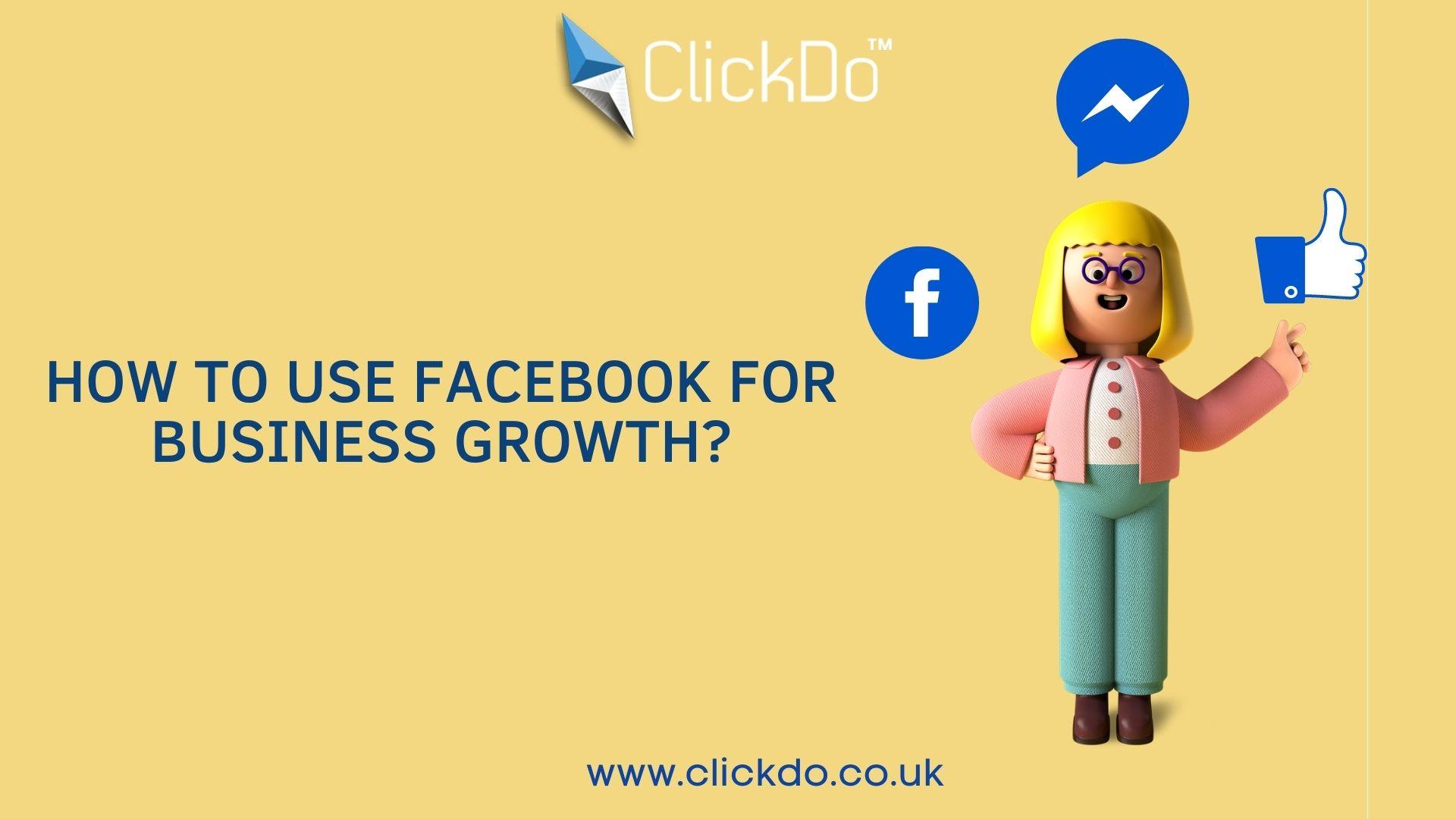 Facebook is an online marketing tool having more than 2.7 billion monthly users. Now days all small business should have its business account on Facebook for their promotion and to increase the customer base. Being on Facebook supports people to connect with all groups of people and to boost their recognition.
Some people feel some difficulty using Facebook for their business due to the frequent change of rules and settings. However, Facebook is considered one of the best marketing tools for targeting an audience through ads and campaigns.
Creating a profile on Facebook or creating a Facebook Business page is an effective way to build a strong audience base and to promote your brand among Facebook users. Hope you all have an idea of How to create a Facebook Business page, here's the blog is of how to do it in a perfect way.
 

What is Facebook Business Page?
A Facebook business page is a web page that allows companies and all kinds of businesses to build their own business profile for free. Building a business page on Facebook helps to expand their audience growth and increase site traffic. The Facebook page makes people spend more time online. Same as Facebook profile you can connect with people by sending and receiving the message and you can post updates, get notifications for likes, comments, and share. Here there is no friend list instead of that you have a followers list.
There are a greater number of business profiles on the Facebook page, the matter is you should make your Facebook page stand unique out from other business pages. You must work more to get more attention from the Facebook users to your company page. Whether you may have questions like being on Facebook is worth it or not, there are many benefits of creating a Facebook business page for your business profile.
How to create a Facebook page for your Business?
Now you got some idea about what a Facebook Business page is, let's see how to create a Facebook page for your business. If you are not created it yet, then it's time to create a stunning business profile using a Facebook Business page.
Step 1: Create your Facebook business Page
Creating a business page is the first step, make sure you are now creating a Facebook business page, not a Facebook profile. Facebook profile is the personal Facebook account that is created to share personal information and updates with your friends and family. Facebook pages are public profiles that let your customers and fans get connected with public figures. You make your users like your page to start seeing your regular updates in their notification feed. Before creating a Facebook page you should need a personal profile on Facebook.

 

Step 2: Fill in all necessary Questions
The next step is you must submit an answer to all Facebook's questions. When you are creating a Facebook page for your business, Facebook will ask you the basic Facebook information, like page name, category, page description, address, and contact details. It is mandatory to fill in all the details so your customer will easily recognize your Facebook profile page.

Step 3: Upload cover and profile photos
Now your page is created, to make your page more presentable and attractive upload profile and cover photos to your Facebook page. The profile photo may be a business profile photo and your business logo. This makes your page to get engage with more users.

Step 4: Fill out other sections in the Facebook Page
Other than the profile name and contact details, you need to add other Facebook page sections that will be good for your business. Here is the list of those sections
Home: Some page is the first page of your Facebook page having the basic details of your business.
Group: The place to connect with your audience and to interact with your customers.
About: This is an important section of your Facebook page that includes your business details, address, hours, and business website.
Events: Here you can create events and promote upcoming events.
Info and Ads: This section shows your page transparency and the status of your current Facebook ads.
Photos: This section shows the featured images that you have updated on your Facebook page.
Reviews: Let your customer write a review and feedback for your products and services.
Services: This section showcase the list of services offered by your business
Advantages of Facebook Business page
Here are some of the benefits of having a Facebook Business Page for your business
Facebook offers low budget marketing strategy
By using a Facebook page, one can share all details about the business
You can share the business images
Helps to connect with more potential customers
For Business promotion and to raise brand awareness.
Author Profile

Jr. SEO Consultant, Blogger, & Content Specialist. Passion for writing in SEO, Digital Marketing & Tech-related Niches.
Share to spread the knowledge!