Beginners Guide To SEO In 2019 & Beyond Written By SEO Experts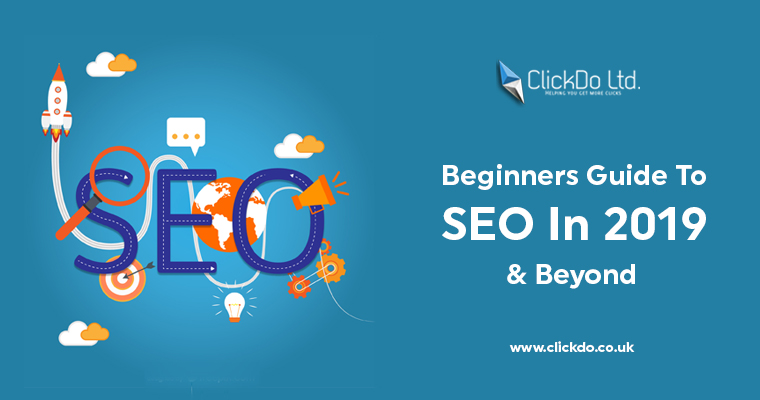 If you just found us on Google, that's good, because this beginners guide to SEO in 2019 will be the only guide you will need to read to know how to learn SEO and Rank & Bank this year & beyond. There are many guides out there, but this one is especially designed by the SEO expert team at ClickDo Ltd., a thriving digital marketing agency in London. We guarantee you will gain the knowledge to start doing SEO faster and better!
Do you want to know how to do SEO step by step?
Do keyword research
Create a website or blog
Install All In One SEO plugin if you build the website on WordPress
Create web pages.
Populate the website with content
Create a meta title, meta descriptions and tags (On page SEO)
Place words (search phrases AKA Keywords) within the body text on pages.
Insert images with ALT tags (according to your keyword research)
Create a sitemap for your website and submit it to Google and Bing via webmaster tools
Install Google Analytics so you can read visitor data
Write blog articles for your blog on the website
Start link building by submitting the website to directories to get the initial SEO boost.
This is a short overview of the main steps, but let's looks at how to do this in more detail.
This guide is written by the #1 SEO Consultant in London, UK who has been learning, practicing, testing and teaching SEO for the last 4 years so he knows what works when it comes to ranking websites on Google.
Since 2014 I have published case studies on how I ranked local business websites and many reviews I got from business owners in the UK. Knowing how to rank websites on Google is one of the most important skills that you can learn this year.
I'm glad you decided to learn SEO and this beginner guide to search engine optimization will help you by giving you the resources and knowledge on what you must to do to master the art of SEO.
Beginners Guide To SEO Excellence in 2019
Before going any further I want to make sure you know how to start a website or blog. And you can do that easily on WordPress. I do not want you to skip this part like many other beginners guides for SEO do, because how can you apply the SEO skill if you do not know how to build a website from scratch?
Don't miss your opportunity here to just read this guide and not spring into action! While reading this you should turn the above steps into practice or else you'll just delay it or not even get started in 2019.
Below you'll find links to our SEO expert online training we have carefully created for you based on our skills, knowledge and work experience. You can take any of these once you know how to build a website from scratch and apply the most important on-page SEO implementations.
On-Page SEO is very important and it's like building the structure of your house properly, so it is welcoming to your audience (visitors from Google).
How to start a WordPress website/blog?
Watch the video below and you shall know:
Guys, I really want you to register a domain name and do this activity. If you know how to build a website, then you can ignore this part and move on to the next part where you will learn how to do on-page SEO for your website or blog.
I will also show you a live example of how I do on-page SEO for a newly launched small business website for one of our clients in London.
How to do On-Page SEO for your website?
Make sure you watch the on-page SEO training video fully a couple of times, if required, and master it. If you ask our SEO content creator at ClickDo, Manuela Willbold, she watched the video and that's how she learned about on-page SEO and how to do it for her blogs and client work.
Now it's your turn: test what you've just learned and you'll have your website up and running including your on-page SEO being done.
Watch the below video to learn further how I approach on-page SEO for one of our new local business websites:
Are you ready to move to the next level and learn about the best SEO practices and how to go from SEO beginner to SEO expert?
If so, you should check my comprehensive online SEO training course for beginners to learn all the fundamentals of search engine optimization and reach SEO excellence. You can join the online SEO training at https://clickdo.co.uk/seo-training-course/ and learn step by step how to do SEO for any website.
This course won't only teach you basics, but very advanced skills like URL Structure Mapping – Creating SEO -riendly URLs,  Internal Linking Strategies (SILO) and it even includes a Mobile SEO Guide To Rank Higher On Google. 
This course was created to teach our ClickDo SEO consultants to do SEO perfectly for our clients, so you get to learn the exact same skills.
Our content writer and strategist, Manuela, has also just released her ClickDo expert online course "How to create hot SEO-friendly content – tips for bloggers" on Udemy.
ClickDo™
Average rating:
0 reviews