SEO Case Study – Dental Niche – 7000% Organic Traffic Growth (From 2k to 147k)
Is SEO Dead?
No, Definitely Not. SEO is the best thing that you can invest for your dental website if you are planning to really stand out of your competitors. In this blog, We will show how our ClickDo SEO Experts have worked closely with one of the dental niche client (Natural Smiles) for dental marketing in the UK and ranked #1 for tons of highly competitive keywords.
Not only the dental niche, SEO is the best investment that one can make for the business growth for the years to come.
800% Traffic Growth in 6 months
As you can see from the below image, when we start the SEO for the Natural Smiles website, the traffic was roughly around 2k/mon. After our ClickDo team took over the SEO works for this site, the traffic has grown to nearly 27k/mon within few months.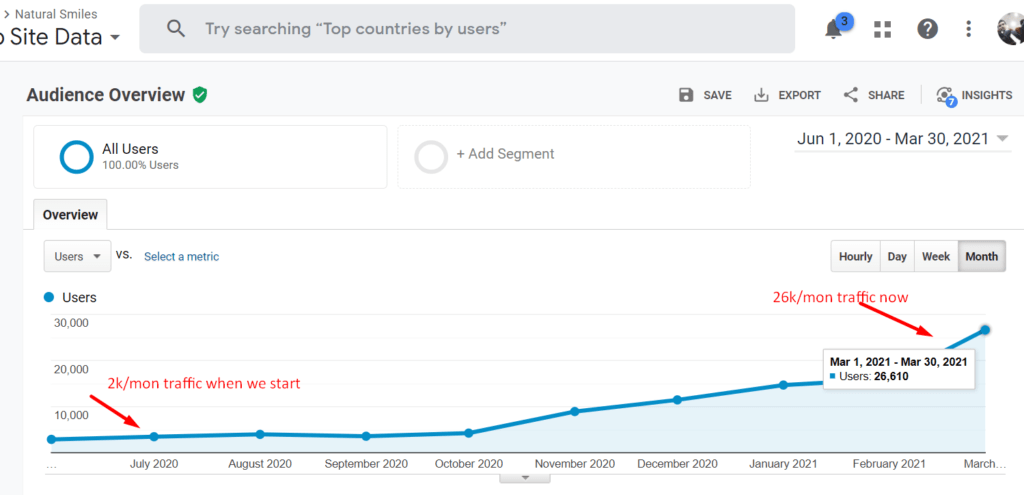 This is how our SEO team at ClickDo works closely with each SEO project and ensures that the clients get most out of their website.
Below image shows the SEMRush traffic growth stats of the Natural Smiles website over the past few months,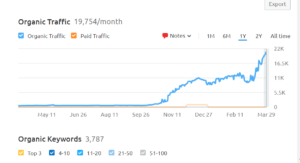 Ranking in featured snippets
At ClickDo, our SEO Consultants invested more time to improve the On Page content quality and have published good number of blogs in the past few months with the proper On Page SEO and content marketing strategy.
As a result, we have achieved the tremendous results and below we have shown some of the real time ranking stats.
Ranking in featured snippet for "dental crown cost uk"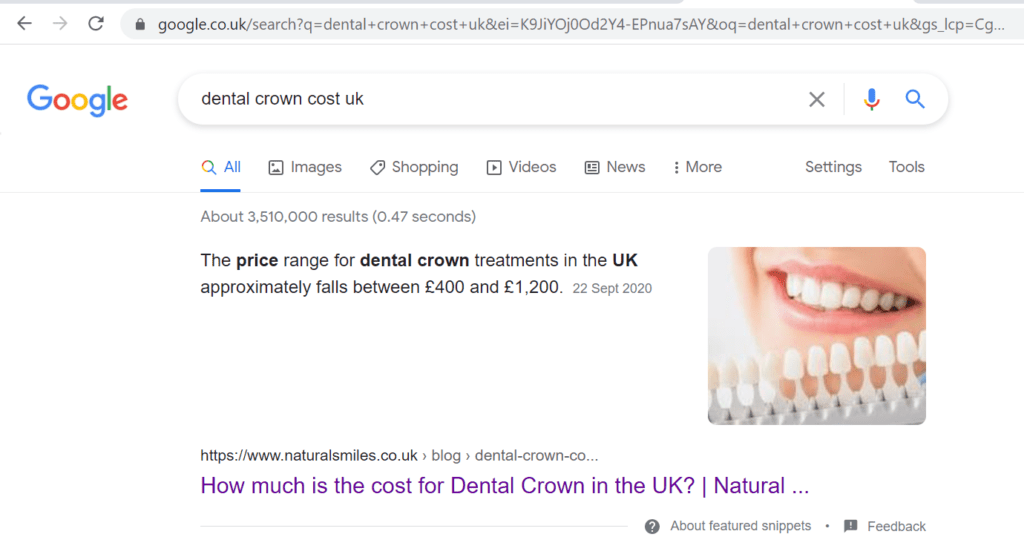 Ranking #1 for "teeth whitening cost uk" with sitelinks

Ranking in featured snippet for "how much does teeth whitening cost"

Above are just few examples and still many keywords are ranking in a similar fashion for the Natural Smiles website in Google SERP's.
Keyword Growth for the dental niche website
As you can see from the below image, the onsite blogging works have really helped to improve the traffic and already ranking on top of SERP's for many search terms.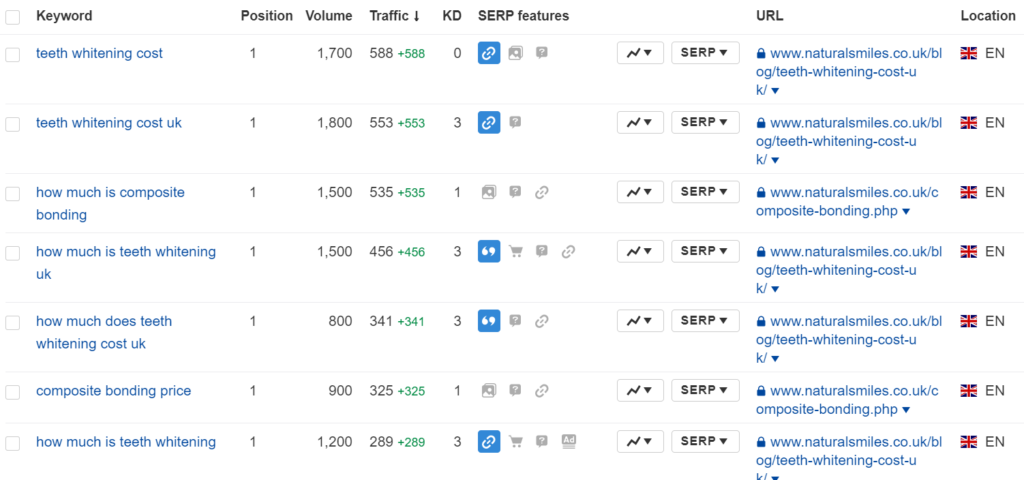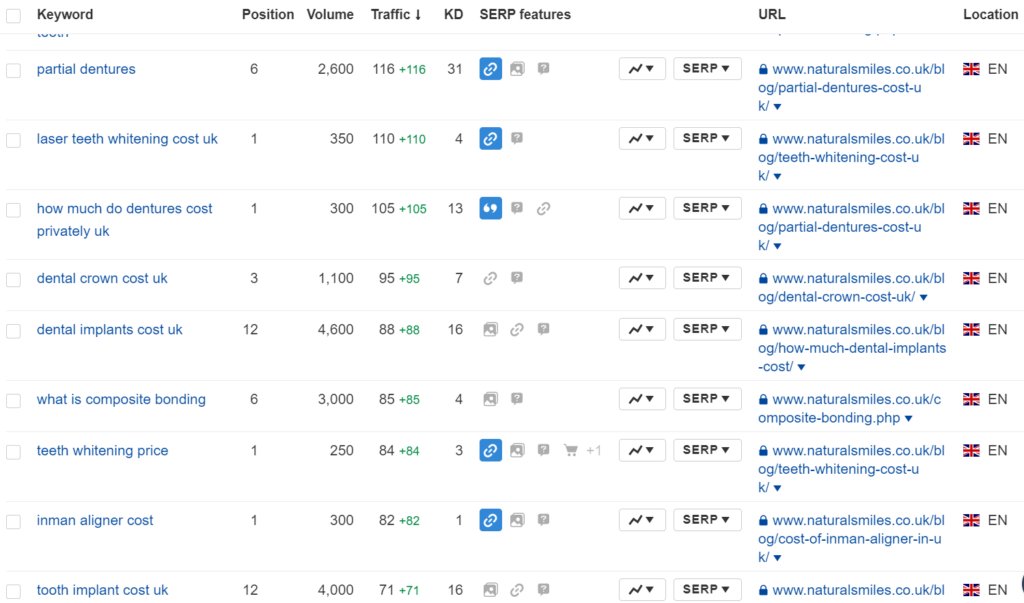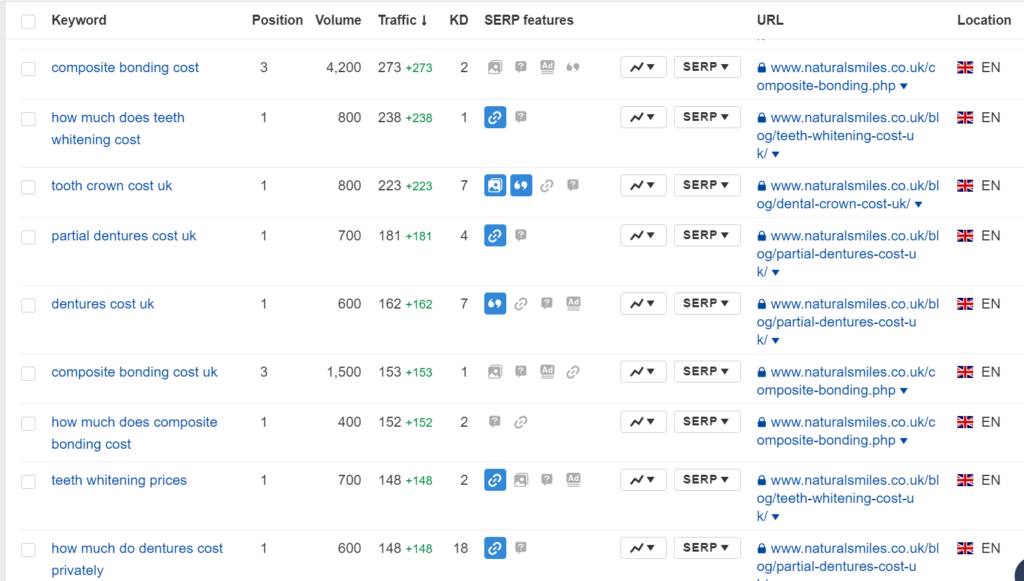 This is SEO Case Study is just an example of how we strategically plan and improve the rankings of the business websites.
Book free SEO Consultation with ClickDo SEO Experts
If you are from dental niche or any other business niche, you can get in touch with our SEO Consultants at ClickDo and get the best insights for your website. You can email to digital@clickdo.co.uk for all SEO related queries.
Case Study Updated As On 21.07.2021
From the below image you can see that the organic SEO traffic of Natural Smiles website have grown from less than 2k/mon to 147k/mon in the recent times. This is how ClickDo SEO experts work closely with each website and plan the strategic SEO works.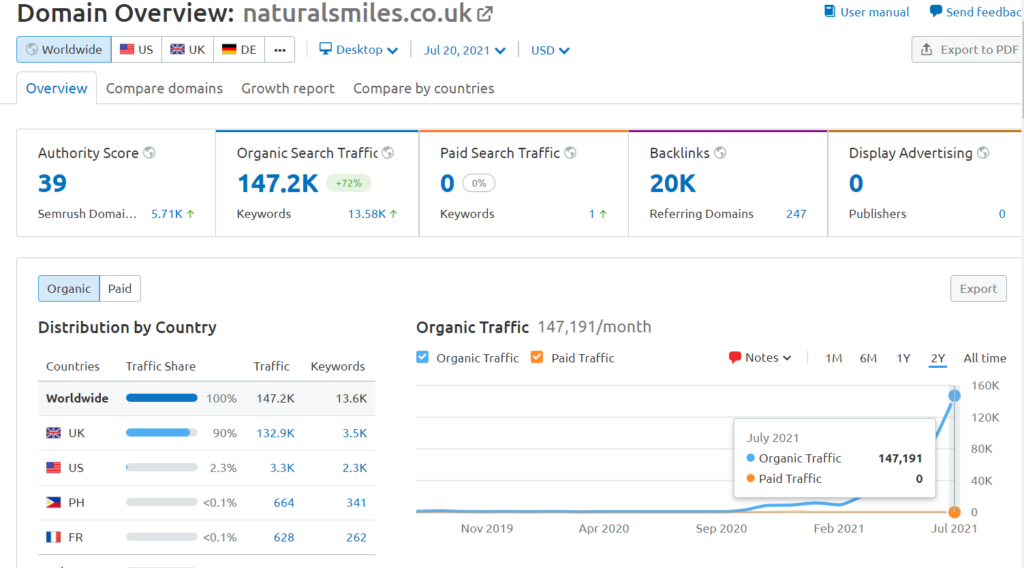 Natural Smiles website have outranked many of the biggest dental niche websites in UK and below are some of the high volume keywords for which Natural Smiles is ranking at #1 on Google SERP's.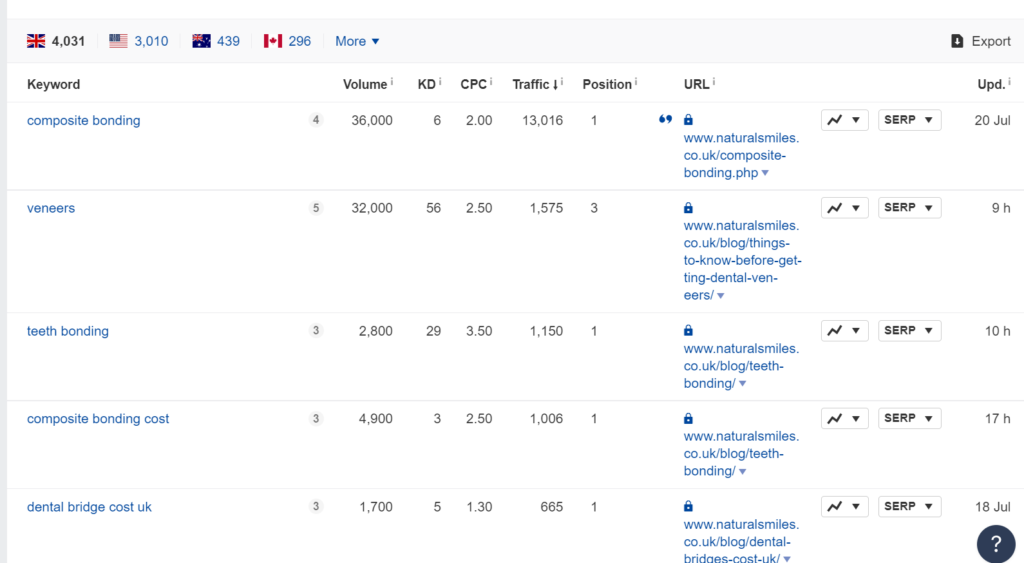 Below are some of the live rank results of Natural Smiles.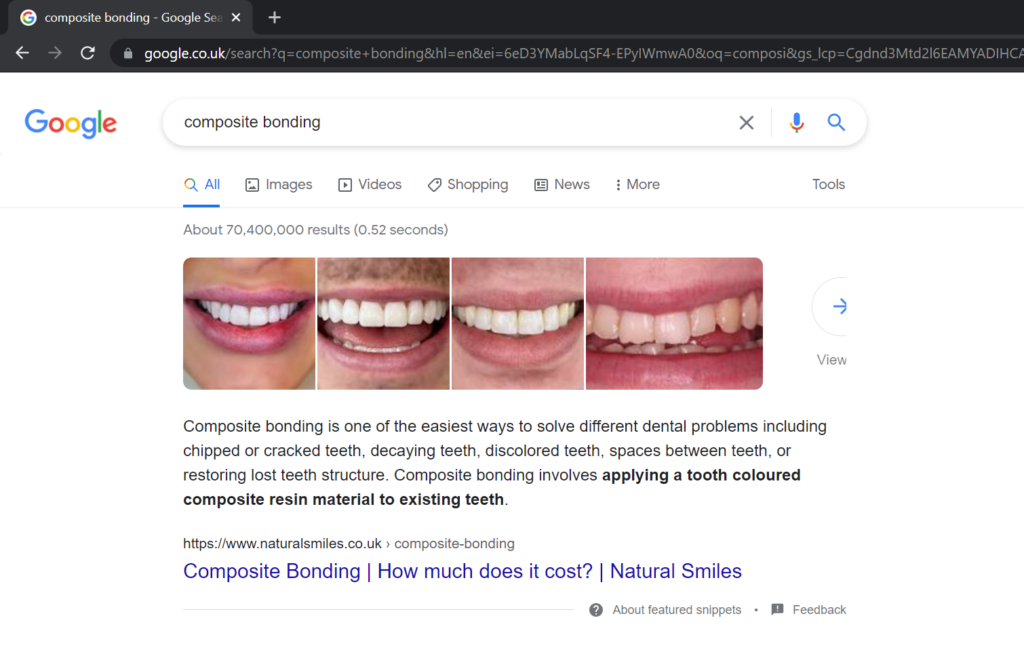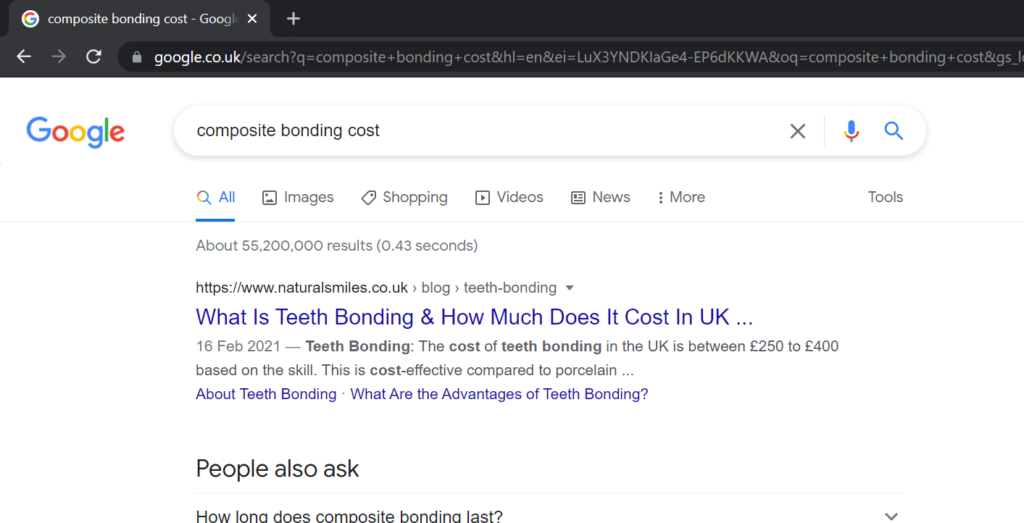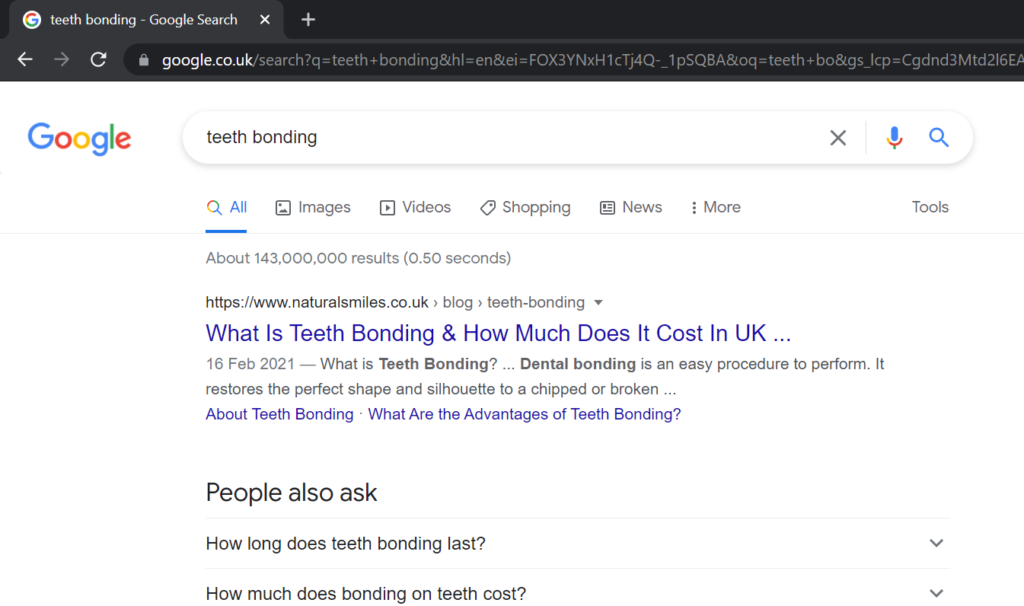 There are still tons of keywords which are ranking in top of the search results. If you need SEO consultation, You can contact us at digital@clickdo.co.uk