Mobile SEO guide to rank higher on Google for mobile searches
Mobile SEO is getting very important and these days all the local business owners that come at us asks for mobile ranks and that's what they prefer over desktop SEO.
What is mobile SEO?
Mobile SEO refers to optimizing a website to perform better on ranking on search engines for mobile users who search on search engines. Google prefers mobile friendly responsive websites they have initiated the mobile first index and you can read it at Rolling out mobile-first indexing
Also, this article explains about Google begins rolling out mobile-first indexing to more sites
We've been doing really well for our clients desktop SEO and now we are testing all the latest mobile SEO techniques that are vital to rank on mobile devices. Because the data shows that mobile users are overtaking desktop search volumes.
Brian Dean At Backlinko explains mobile as below:

This article is an introduction to Mobile SEO by Smart Insights.
Why Mobile SEO matters in 2018?
When a person performs a search using his smartphone they are on the go and more likely to take an action. It's a fact that desktop users could be shooing around as they see more results on their screen and they are more likely to click too many websites.
When it comes to mobile searches, people are instantly flocking to the top results and the 2nd 3rd and maybe the 4th.. Anything below is basically getting luck is a user comes to their website.
Google data shows that over 55% which means more than the desktop searches are done using mobile devices like smartphone, tables and on the go devices. Basically, mobile devices have taken over the traditional desktop computers in online traffic.
The future will be mobile users and more and more people are coming online each day with their mobiles. So as a business website owners you are loosing if you do not optimize for mobile search traffic.
Does mobile SEO matters in Local SEO game?
This matters more than anything. I would say more than on any other SEO game. If you are a local business owner you may have a service you offer, say a cleaning company or a rubbish removal company or man and van hire service. Your target customer is using a smartphone to search for the services you offer. So you need to get your business website ranks as higher as possible on the first page of Google. With Google AdWords this is easy.
Nowadays SEO is turning out to be Mobile SEO and we've covered it on the local SEO blueprint.
Google published on their webmaster tool blog about they rolling out mobile friendly update
So you should check if your web page mobile-friendly and if not it's time you get done a mobile friendly responsive website designed and custom developed it.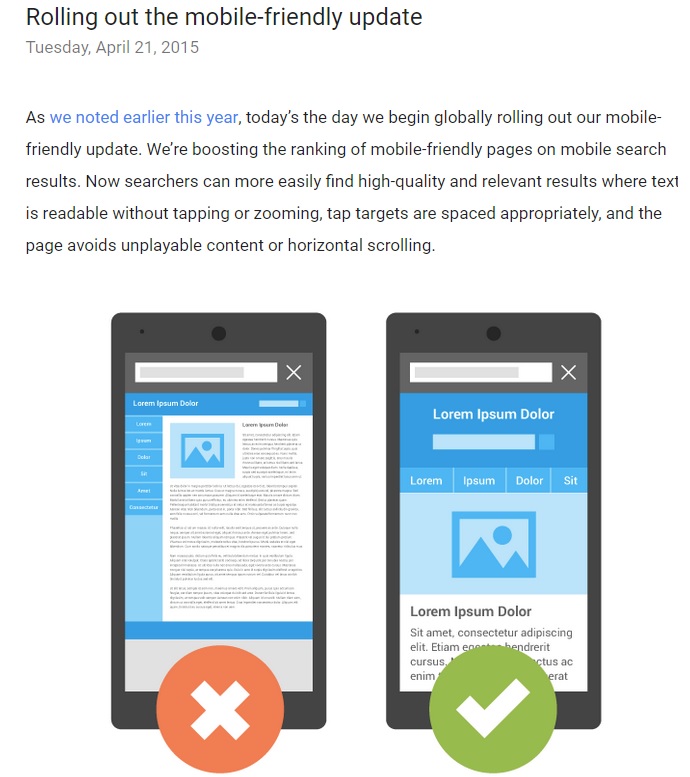 Google stated about the Google's Mobile-First Index! So what is that?
Google mobile-first index ranks websites on search results based on the mobile-friendliness of a web page. And the thing is this affects if you are even searching from a desktop. So chances are if your business website if not mobile friendly the website will perform badly for desktop searches as well.
Now let's look at the 4 main aspects you should be aware of, when it comes to mobile SEO
1. Audit Your Website:
Before getting into the groove, make sure your website has any big issues that will affect highly. Use some quality tools which are available in the market, most often Google Search Console will show where you dip. For a safer side, checking it in 2 to 3 online or paid tools will help you to explore and get more insights about your own website. Check each and every page, whether they're mobile responsive or not, because of traffic from each page of your website is more important.
2. UX of Your SEO Website
Designing a responsive website for users will improve the engagement. The characteristics of responsiveness include website speed, images loading time, interactive designs and knowledgeable content at the right place of your webpage. Visitors will expect cohesion of all these characteristics, if anyone misses out, then it will not be at good cause for your website. Like, if you have well-written and knowledgeable content without interactive images or videos, they will be bored of staying on your website for a period of time. The summary of visitors intention is to achieve their goal as soon as possible when they get into that particular web page. If you ask how UX of a website mixes with SEO? then you must understand bounce rate is one of the most important factors in SEO, where it validate metrics of users stay on your website.
3. Mobile SEO Content:
As always we do, content should be well-written and relevant to the topic. When you write a content, it must convey what you're trying to say to the targeted audience. Otherwise, there will be no point in marketing the content in Google. Content should be SEO Friendly with good readability score. To take Mobile SEO into next level, people have started to use voice search instead of regular text search. So, it is important to keep an eye on the voice search keywords and optimize accordingly. When you check the stats, compared to 2008, Google voice search queries has increased 35 times in 2016 and expected to be doubled up in 2020.
4. Geo-Specific SEO:
When you're business is reliant on local targeted people, then it's important to do some extra effort for your Local SEO. Google has mobile results some personalized than ever, so it can provide a more relevant result for the searchers. They take behavioural pattern of each and every user to understand the activities of normal users. Google recently gives a stat that, 80% of user's searcher with the keyword "near me" comes from mobile devices. So, build a proper Google my business listing for your business and do a regular update. It includes positive reviews, NAP [Name Address Phone Number] insertion, adding user involved photos and optimizing for "near me" search keywords.
Google shows the search results from their mobile first index even if the user search from a dektop!
Share this Mobile SEO Tips Infographic On Your Site