Bespoke website designing for mobile speed
Bespoke Website Designing
Date:

28th February 2019

Industry:

Home Renovation Services

Services:

Website Designing

Status:

Completed Successfully

Website:

www.homerenovationlondon.co.uk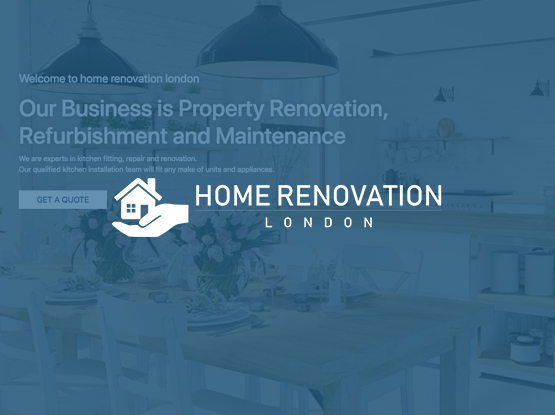 Home Renovation London's journey to a super-fast, smooth, mobile website
Tony Strikes the Founder of London's leading home renovation and refurbishment services company was introduced to ClickDo by his brother Stoyan Staykov who the CEO of Express Waste Removals services.
When Tony met Fernando for consultation, he had a clear expectation about how his legacy website should look like and what audience it's catering. ClickDo specialises in building a bespoke mobile responsive website that are the highest Google page speed standards. After they met in early January 2019, here we are after one and half months later state of the art, new mobile responsive website was designed and developed by the web design London labs.
The website loads fast, and it's scoring 100% on Google page speed score on the desktop as well as on mobiles.
So how does this help Tony's business and how did ClickDo create the most advanced mobile friendly bespoke website for the home renovation company. And how can other local companies in the UK, utilise ClickDo web design services to get the best mobile-friendly websites? – We will cover it all in this article.
Before getting into details, let's have a look at the page speed scores on Google page speed insights. Check at https://developers.google.com/speed/pagespeed/insights/?url=https%3A%2F%2Fwww.homerenovationlondon.co.uk%2F&tab=mobile
You saw it and now make's look at each aspect.
Desktop speed…..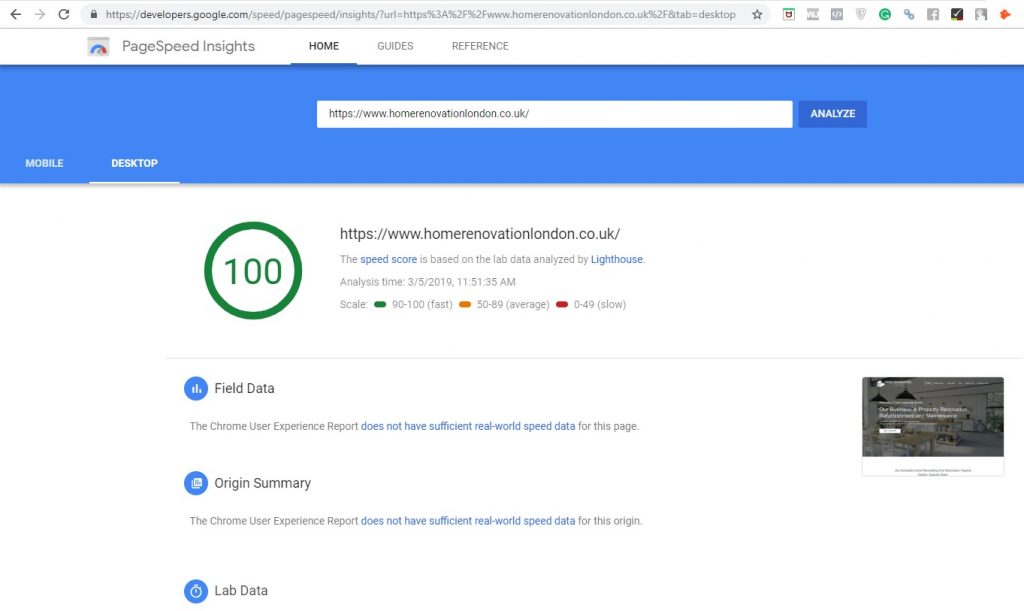 Now see the mobile speed on Google insights…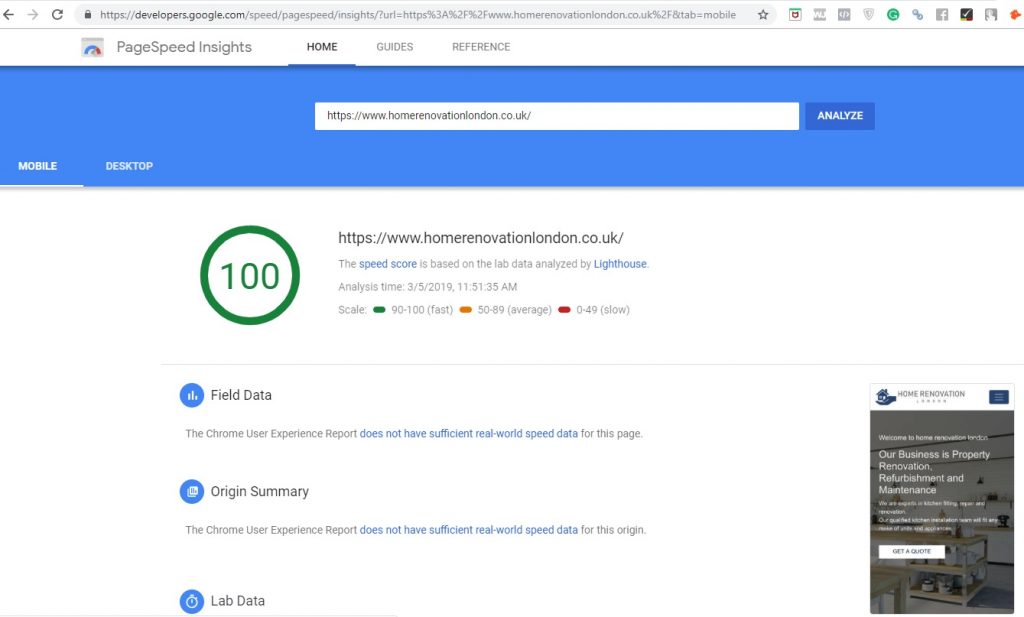 Why Tony Strikes tasked ClickDo to create a mobile-friendly smooth website for home renovation London brand?
Home renovation London targets the wealthiest people in London who wish to get their homes renovated and refurbished for luxury living. Tony's ideal clients have well established household owners and mostly multimillionaires who can afford to get their homes updated to the highest living standards. So, Tony said to us, the website should be smooth and loads in milliseconds. Because the speed is what gives the richness and hook for the ideal client to start dealing with Tony. Tony is London's most loving Home renovation specialist with decades of experience in the field. He has renovated houses that were turned to luxury spaces.
Today HomeRemovalLodnon.co.uk is one of the best websites on the Google UK and most talked about the brand by the audience. People who visit the sites cannot leave without contacting Tony's staff to hire them for renovation work.
The website loads fast, and navigation gives a smooth, comfortable feel to find all the things that matter to Tony's audience.
When building the website, Nuwan Lakshanth has used the most advanced website coding technology to make it easy for the site to load as well as Google bots to understand what's the website it about.
Think With Google insights says…
"Today's users have very high expectations. We needed the site to start fast – and stay fast – with nothing slowing them down. That's especially important given that 50% of internet users are now on mobile."
It's still too early for us to share the sales figures from this website. However, Tony plans to drive traffic to the site from social media channels as well as from Google AdWords services.
Google AdWords is one of the best ways to generate leads for such industries, and the traffic must be retargeted via social media advertising to get them back on the website.
Achieving such speed was also supported by the London hosting services by SeekaHost Ltd.
London web hosting servers helps the time first to bite and gives a much fast loading speed for the visitors from London.
For a London based business like Home Renovation London, having the website hosted on a London hosting server greatly helps the performance.
If you would like to know about superfast mobile responsive website creation, you can check our Website Design London website for all the details. And if you are a London based business owner, you will get the opportunity to host your business websites in one of the SeekaHost owned London web hosting server.