10 Important SEO Metrics to Track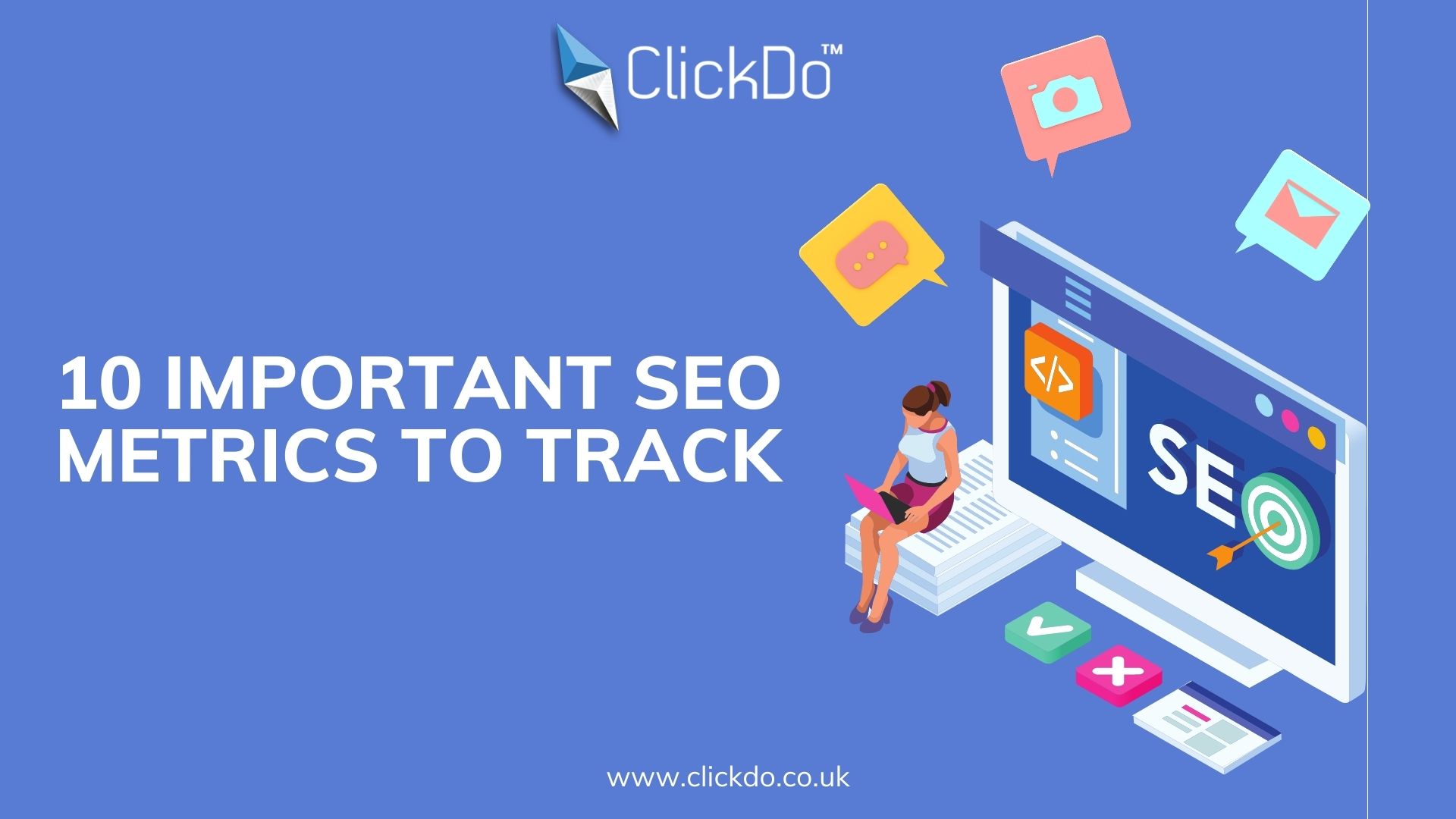 SEO is essential for all business websites to enhance their brand, and SEO metrics tracking is the next important thing to evaluate the website's success.  Digital marketing gains more attention over traditional marketing, the reason is that you can track and measure every part of your marketing strategy with the availability of free tools like Google Analytics.  Here we mentioned the important SEO metrics to track of.
Many business owners are not aware of how to track the SEO metrics and on which matrics to focus. That's why on this blog, we will explain important SEO metrics, and on which metrics you should need to focus on to measure your results.
What is SEO tracking?
SEO tracking is to analyze whether your strategy is working or not, what kind of tactics are you using, and to improve it to bring more results. SEO tracking is to measure the SEO metrics like organic traffic, CTR, bounce rate, keywords rankings, backlinks, and conversion rate.
Here, we simply address which metrics are important for your business and how to pick the right metrics.
Important SEO Metrics To track
To help you to focus on the right metrics for your business success, here are the top 10  SEO metrics and a guide on how to track them.
1. Organic Traffic
Organic traffic is the traffic to your website from the search engine results without paying anything for the placement. Organic traffic is one of the most important metrics to measure your SEO performance. Because the number represents the overall visitors who visit your website purely from the organic search.
You can get the overall traffic from multiple web sources including Search engines, social media platforms, direct searches, etc.
To track organic traffic, here we used Google Analytics.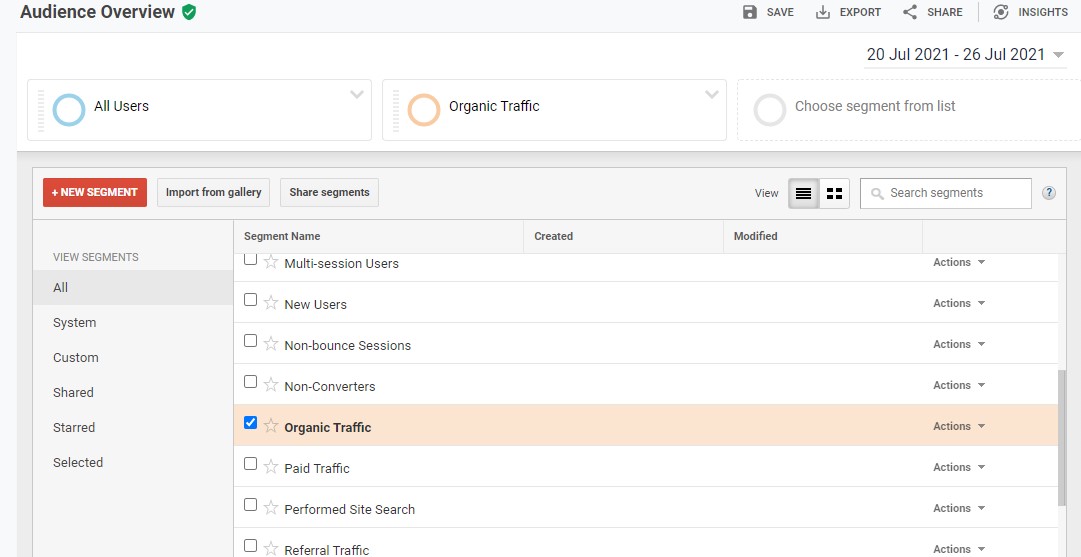 Login to your Google Analytics dashboard > Organic Traffic >add segment option to track the organic traffic

2. Click-Through Rate (CTR)
Click-through rate is the percentage of people who visit your website after seeing your webpage in the SERPS. Organic CTR happens mainly due to your title, meta description, and URL. For greater CTR you should optimize your metadata and URL to catch visitors' attention to your website.
If your CTR is low, it may be due to your meta title and meta descriptions is not engaging or your content is not relevant to what you are looking for. Check this blog to improve your organic CTR.
To track the CTR metric, you can use Google Search Console Tool.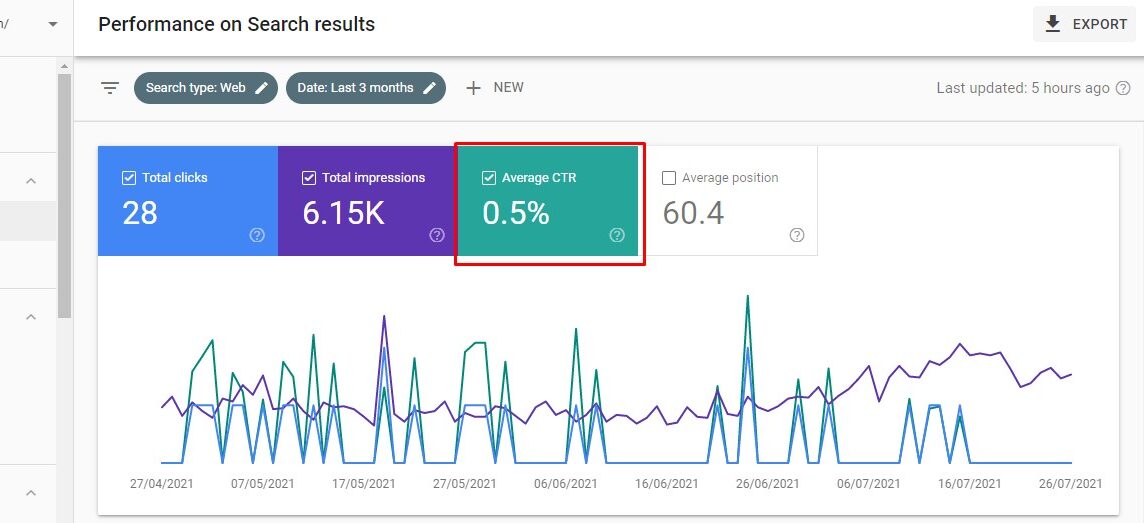 Here you can get the CTR via the average CTR option.
3. Exit Rate
Exit Pages are the last pages viewed by your visitors before they are leaving your website.  Exist rate helps to find at what pages people lose their interest and exit from your webpage. This helps to improve that page. So, it is important to track your top exist pages by exit rate metric.
From this, you can understand that, if a large number of visitors leaves after visiting a specific page, that page needs more concentration to work.
You can measure the exit rate by using Google Analytics.
Go to "Behaviour option > click site content > all pages " to check the exit rate.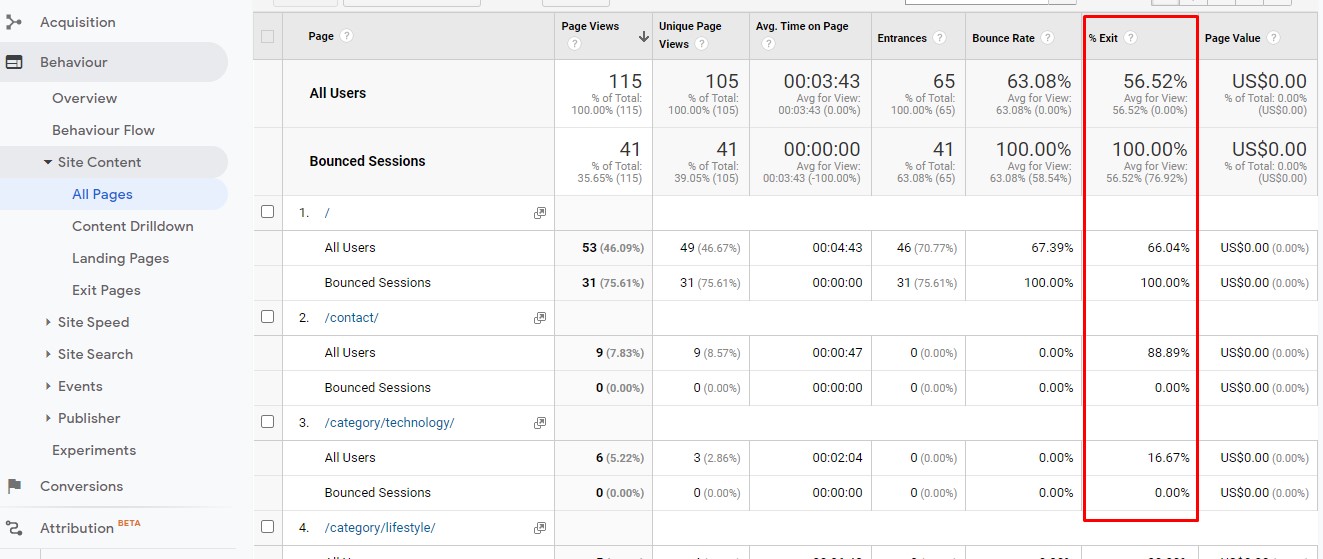 To reduce the exit rate, give more importance to the content and add only quality images to your website.
4. Page per session
Page per session is one of the important user engagement metrics, that helps to track the number of pages your users visit before bidding. The hight the metric rate is the better for conversions rate.
To track the Page per session metric, In Google analytics go to "Acquisition> all Traffic > channels". You can get the page per session rate for each traffic channel.

5. Bounce rate
When a visitor left your page without continuing to another page is called "Bounce".
The percentage of visitors left from your webpage is known as "Bounce rate".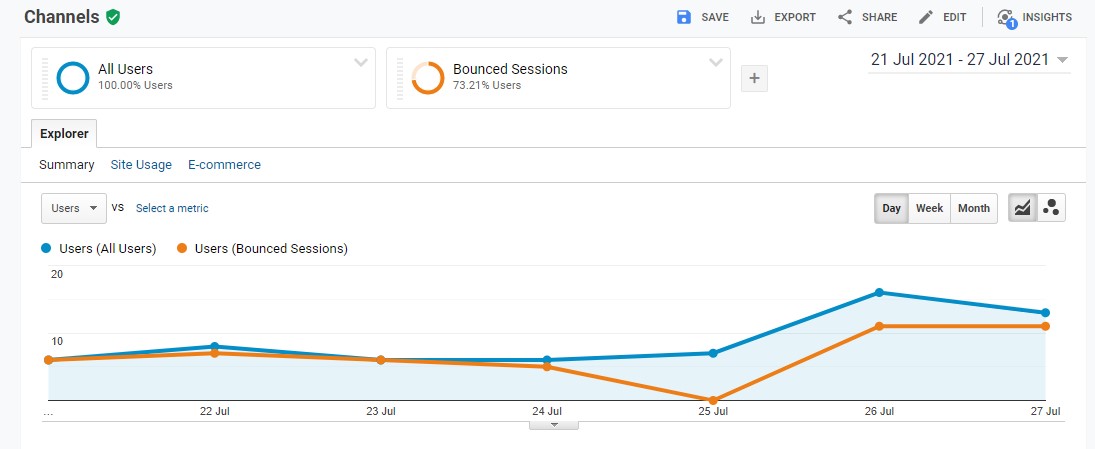 If your bounce rate is high, then this indicator of your page doesn't contain any useful information that your users needed.
6. Page Speed
Page speed plays a major role that creates a greater user experience, that boosts your website for ranking and conversion. While optimizing your website, it's important to check the loading speed.
The average loading speed is the time taken to display the full content on your website
You can track this metric by checking "Behaviour> site speed".

Here you can see the average load time for all your pages.
7. Keyword Ranking
As you are working for a long period on SEO tactics to bring a greater ranking to your target keywords. It is time to monitor how your rankings for the current keywords get changing.
To get the current organic search visibility, you should know which keyword you are ranking for.  Choose the keyword with greater ranking and optimize it on your content for better ranking.
You can easily track the ranking of keyword positions by using the keyword tool Ahref.
Check the Video to rank your website with Keyword Golden Ratio.
TIP: Always go for the top-ranked keyword
8. Backlinks
Backlinks refer to the number of links from the external sources pointing to your website. This is one of the ON-page SEO strategies to bring more rankings from the referring domains.
Make sure, your website getting backlinks from the authorized websites. Because the quality of backlinks is more important than the quantities.  10 links from the authoritative domain are more valuable than the 100 links from low-quality domains.

For measuring the backlinks, we recommend using Ahrefs. A great tool to track your backlinks and referring domains.
9. Domain Authority
Domain authority is one of the most important goals of SEO strategy, which helps to improve your site's trust level and authority among the users and search engines.
To check the domain authority of your website, you can use a free tool like Domain checker.
This is a simple process. Enter your site's domain name or URL to get the domain rate.
10. Conversion Rate
Conversion rate is the metric that represents your SEO strategies and their success.  To measure the conversions rate, use google analytics and set up your goals for online purchases, leads, signups, and other important actions.  From this, you can simply monitor the conversion rate with the  percentage of your website visitors who takes these actions

Bonus
When it comes to SEO analysis there are many tools available on the internet to measure your site's performance. But here we picked the top 5 from the list. If you are not yet started the tracking of SEO metrics mentioned above, now it's time to get started with the free and affordable SEO analysis tools includes
Google Analytics
Google Search Console
Ahrefs
SEMrush
Moz
Track your SEO metrics and start improving your website growth.
Author Profile

Jr. SEO Consultant, Blogger, & Content Specialist. Passion for writing in SEO, Digital Marketing & Tech-related Niches.