Digital Marketing Course (Best Online Short Course in the UK for 2019)
Why learn digital marketing skills?
Learning digital marketing skills will give you a great advantage to get a job or else start your own online business. With the skills you gained through this course you will be able to start an online business and do it from home to or you will know how to get your digital marketing career sorted.
After 5 years of studying digital marketing skills in the UK, we've created the most valuable online advertising course for anyone to get started and learn online. There are many online marketing courses, some of which are free and some claiming they provide the best digital academic skills. However, we wanted to create you a course that practically shows with examples on how to get started online, how to build your website, steps to build a thriving blog, what research to do to understand the demand and how to do keyword research.
There are 12 core courses that consist of modules for each training and we do advise you to take it as per the order we have put, so you will learn the skills. You can complete the full course in 3 months, however, if you are the kind of person to learn it fast, you can complete it in a month and become a certified digital marketer.
Become an Internet Marketing Pro in 2019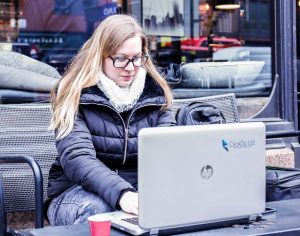 We had some of our interns like Ivy Ivanov, who took expensive digital marketing training courses at a well-known institute in London and after paying £3000 plus for the course, she still did not get the right knowledge to operate successfully in the digital economy.
Becoming a digital marketer is a dream for many as they see how awesome the work looks. You can live the laptop lifestyle or work remotely doing remote working jobs. Nicole Venglovicova works remotely helping businesses thrive online with her digital skills.
Check how Manuela Willbold works remotely with the digital skills she gained at ClickDo Academy. Here we give you the best selection of subjects covering everything you need to become a certified digital marketing professional.
What will you learn in our online digital marketing course?
How to start a blog with WordPress & Optimize it for the search engines
SEO friendly content writing skills taught by Manuela Willbold
Blogging skills – how to earn money online as a blogger (With a practical case study of how we grew the UK business blog to a money machine)
How to become a PR expert and get quality links for business websites
Latest SEO skills taught by Fernando – #1 SEO Consultant in London, UK (Value £197)
Local Business SEO skills that you can use to help local business owners with their online marketing (Value £997)
The complete SEO blueprint with over 30 hours of video tutorials (Value £497)
Facebook marketing & ReMarketing skills – how to integrate Facebook Pixels
How to write a digital marketing strategy for a business to grow online
How to get digital marketing jobs and work remotely
The laptop lifestyle blueprint created by Fernando – Includes a 2 hours skype call with Fernando (Value £497)
How to find digital marketing jobs in the UK
The course is designed so you can learn online by watching video tutorials. You can use and apply the acquired knowledge in your practical work.
We have created a Facebook group where you can ask our lecturers any questions directly.
Who should take the digital marketing course in the UK?
College or university students who are studying marketing and anyone who wishes to become an expert digital marketer. This course is developed and created by digital consultants who are currently working in the digital economy in London, UK.
If you want to become a marketer in the 21st century you must have the relevant Google and Facebook skills. In this all-in-one internet marketing course, we have included all the best online marketing practices which are explained to you in a practical manner so you can easily apply them to your daily internet business marketing.
The SEO training courses are designed to give you the most practical knowledge to do search engine optimization on the most used search engine: Google.co.uk
Fernando's words:
I've learned about digital marketing secrets back in 2013-14. I moved to London and started to learn everything about how Google works and became an SEO consultant. I then ranked websites and got hired to do it for local business owners.

In the online SEO training course you will learn exactly what I've learned and how to do search engine optimization successfully, achieving the results you're looking for.
You can join the online SEO academy or check all our digital marketing courses at the ClickDo Academy
Check our SEO courses online and start gaining the skills to rank websites on Google.
ClickDo™
Average rating:
4 reviews
Nov 24, 2018
Must Learn Digital Marketing Course
I must highly recommend ClickDo's digital marketing course without any second thought! The trainer will give you the in-and-out knowledge of every platform in digital marketing. If you're determined enough learn and start your digital marketing business, then you can't go pass without learning this course.
Nov 24, 2018
Practical and useful - easy to apply
Fernando's courses truly reflect his knowledge and skills he applies in his work every day. His expertise in the field of SEO and digital marketing are clearly visible and he showcases them in a very practical and easy-to-learn manner in his courses. I've learned how to set up a blog and how to do the SEO it. Through the FB remarketing course I gained an insight into advertising my blog to increase traffic. I highly recommend learning from the #1 SEO consultant himself!
Nov 24, 2018
One of the best digital marketing course !
I have been working with ClickDo SEO Gang and Fernando for a long time and i would highly recommend this digital marketing course for anybody who loves to learn digital marketing in 2019 and become a Pro.



Cheers !
Nov 24, 2018
Best Digital Marketing Training
Fernando's digital marketing & SEO skills training is great and it has helped me advance my online marketing knowledge and help business owners to get more leads/conversions. Every topic in this course is given more attention to detail by Fernando, This course will definitely a hard find for the one who is looking to pursue their career in the field of Digital marketing & SEO.



I would highly recommend this course for everyone!