Best WordPress SEO plugins for 2021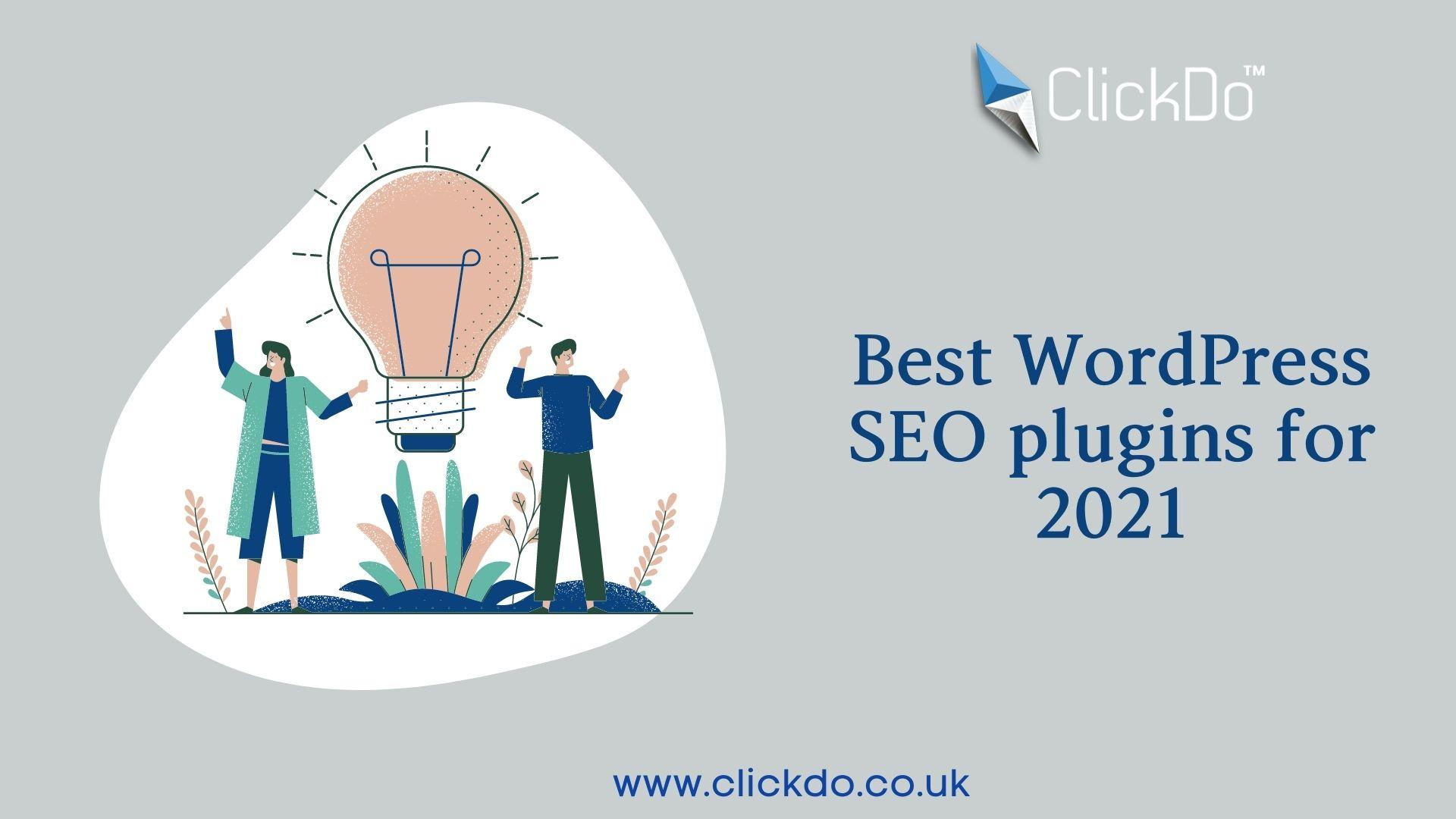 Optimizing your WordPress website for the best SERP results is more important in 2021. Check out the best WordPress SEO plugins for your WordPress website and rank your website by optimize for higher search results.
In this blog, we shared the best WordPress SEO plugins recommended by the top SEO experts and short descriptions of each SEO plugins.
Mostly everyone knows how to build a website using WordPress CMS. So the next step is to add more features to rank top of search results. The key factor to rank higher is proper SEO.  Now there are many SEO plugins available to improve your website performance and page ranking.
Let's check what are the SEO plugins that you should use for your WordPress site for better performance.
 1. All in One SEO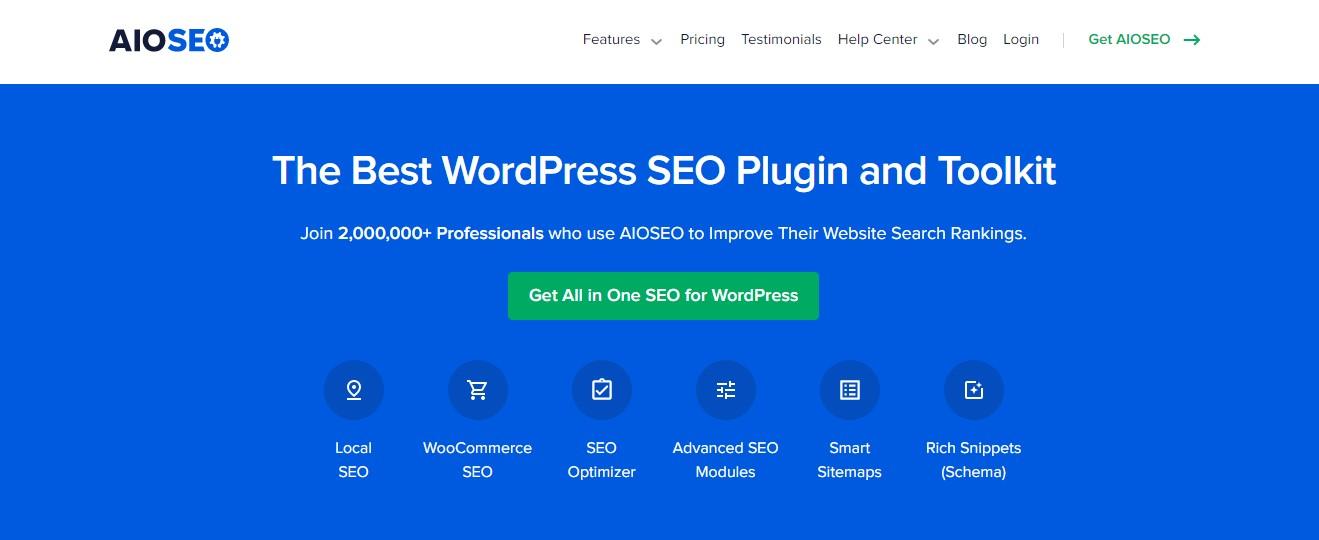 An incredible and most popular SEO plugin in 2021 is the All in One SEO Pack. AIO SEO has great automation features and it lifts the SEO features of your site that help to improve your webpages for high ranking. Keep AIO SEO plugin as your first priority to outrank.
Even beginners can use AIO SEO plugin in an easy manner. AIO SEO WordPress plugins are highly recommended for those who plan to rank higher on the Google search engine.
Features of AIOSEO
WordPress SEO Wizard – Helps to set up the SEO for your WordPress website in less than 10 minutes
On-Page Optimization- Does perfect on-page Optimization and you no need to hire any technical person to do On-page SEO for your site
XML / Videos/ News sitemaps – Provides videos and news sitemaps associated with videos and Googles news sitemap
Local Business SEO module
SEO Audit
Advanced SEO Canonical URLs
Advanced Multiple keyword options
Install now and explore more features of All in One SEO WordPress Plugin
2. SEOPress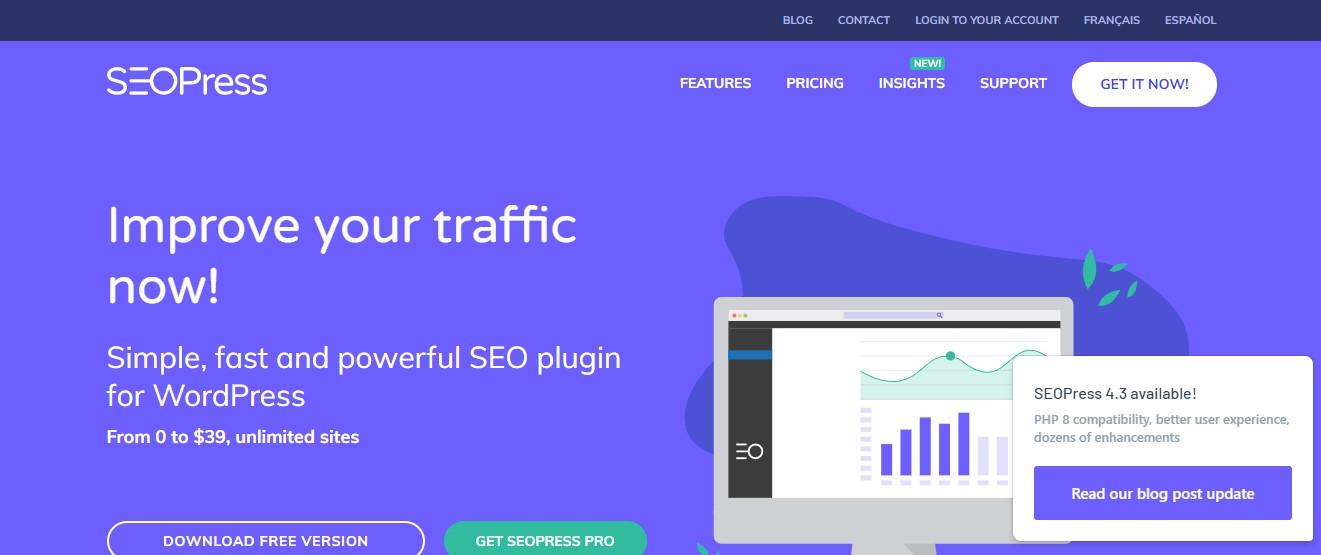 SEOPress also an excellent WordPress plugin that has many interesting features to improve your website page ranking and also is integrated with Google Analytics to show how to improve your site's page performance by doing proper optimization.
Install SEOPress to boost your website traffic, and to improve social sharing with the help of sitemaps and schemas.
Features of SEOPress
Wizards
Content Analysis – Helps to build optimized content
Options of Mobile / Desktop Preview
Social Media Preview
Meta Titles /Meta Descriptions
Advanced social media sharing
Custom Canonical URL
Custom XML sitemap
Redirections
3. RankMath SEO

 RankMath SEO is the best and helps to get more traffic sources for your website. It makes your website well optimized in a few clicks and its features level-up your website to reach close to the top position of search engine ranking. If you would like to improve your website SEO to get more traffic then install RankMath SEO right now and start to access its automated features.
 Features of Rank Math SEO 
Wizard setup
Google Schema Markup
Unlimited keywords
Integration of LSI keyword tool
SEO Analysis Tool
Suggestions for Internal Links
XML sitemap
Google keyword suggestion and
4. Yoast SEO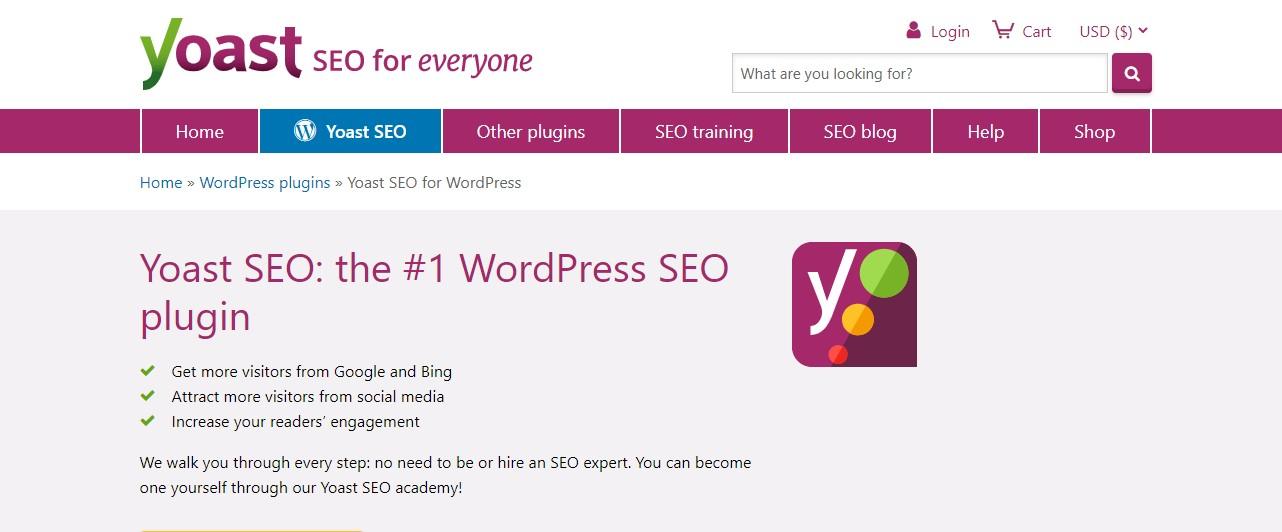 Yoast is one of the popular plugins, which is used by most WordPress sites for its advanced SEO features. Yoast SEO is downloaded for effective SEO purposes and to optimize your website with the right keyword phrase. Yoast SEO helps you to get more visitors from the search engines like Google and Bing, social media visitors by increase traffic and user engagement.
Yoast SEO is the beginner's friendly, everyone can make use of this plugin with basic optimization knowledge.
 Features of Yoast SEO
Focus keyphrase: Helps to get high relevant keywords.
Canonical URL: To fix the duplicate content 
Schema and structured data
No-index and No-follow options
SEO Analysis
Readability score
Internal link suggestions
5. Slim SEO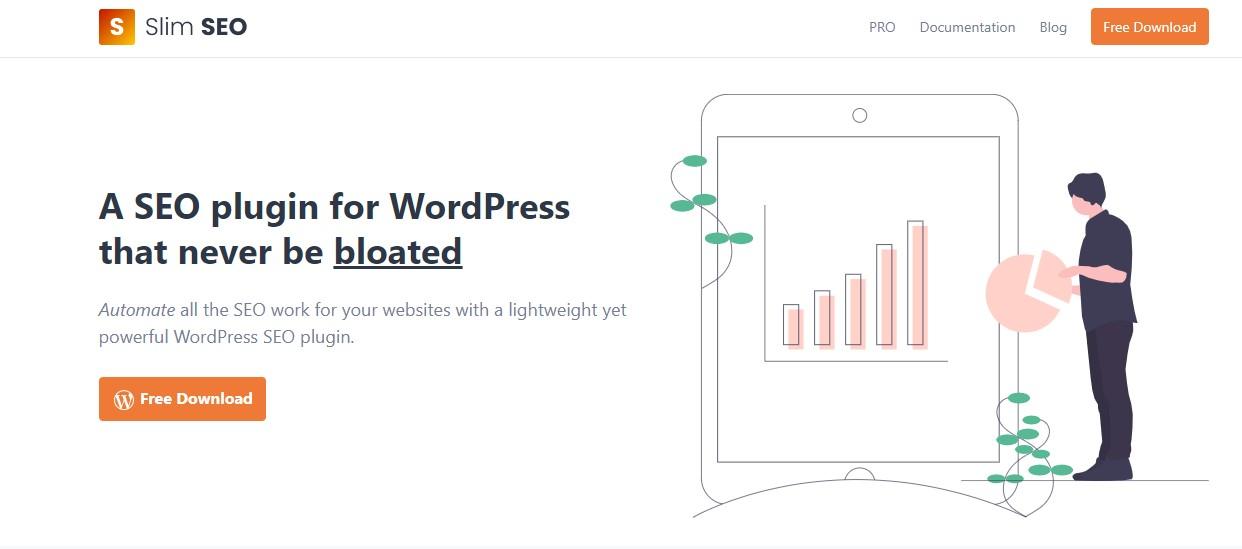 SlimSEO has more attractive features, recommended for business websites, that provide complete SEO solutions for their WordPress site. Slim SEO configuration
 Features of Slim SEO
Auto-generated metadata
XML sitemaps
Breadcrumbs
Schema
Redirect
6. The SEO Framework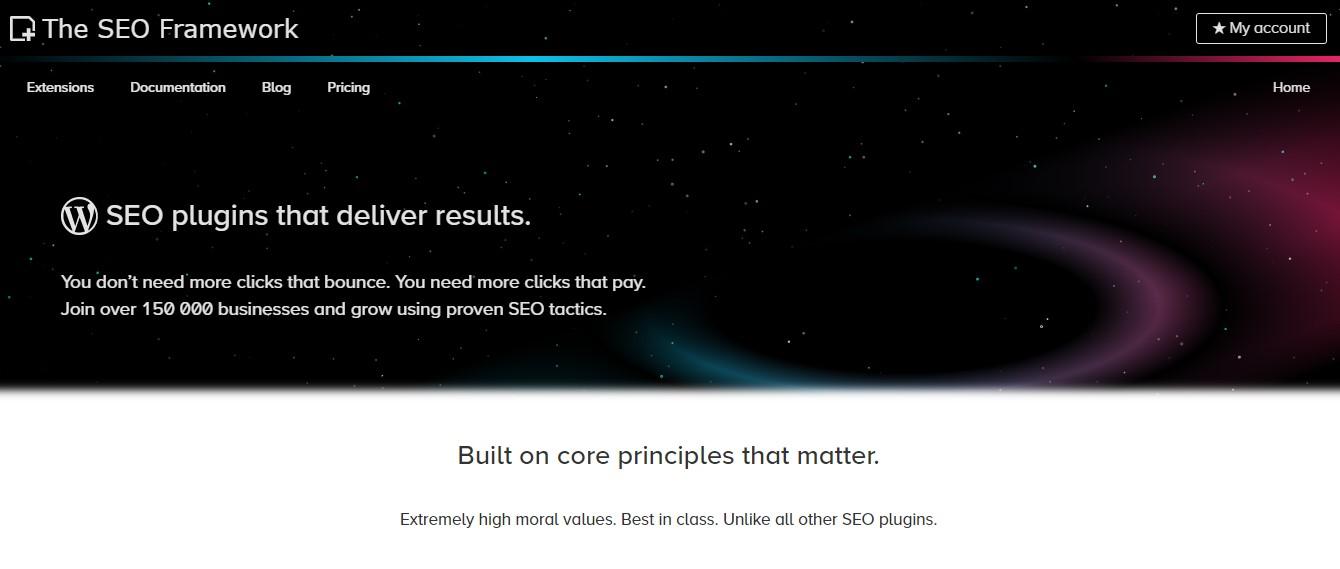 SEO framework is the full-featured SEO plugin that helps to set the fastest framework for your WordPress site. SEO Framework is suitable for E-commerce business website.
Get start with the SEO framework and increase the SEO health for your WordPress site. The SEO Framework saves your time and generates metadata in all languages.  SEO framework ranks your website on any Search engine by enabling auto built-in sitemaps.
Features of SEO Framework 
Easy social sharing
Keyword navigation
Blended with more extensions.
Prevents canonical errors
E-commerce plugins
Integrated with WordPress core sitemaps 
7. SEO 2021 by Squirrly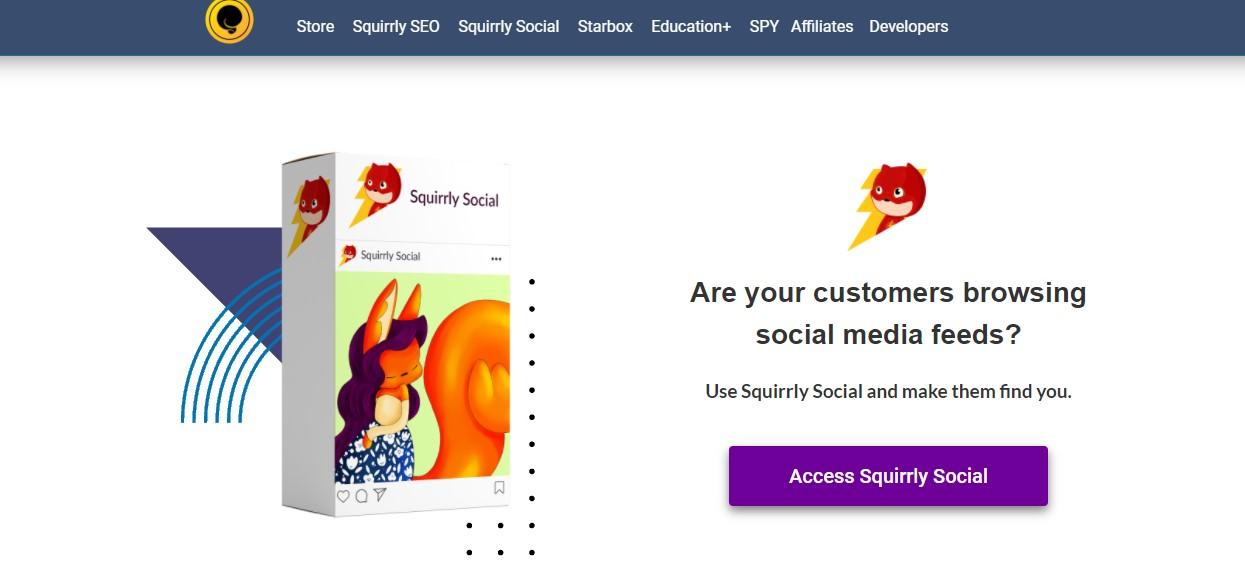 SEO 2021 by Squirrly suggests smart SEO tips for 2021 used to increase their search engine traffic. The tool has more SEO features even used by SEO beginners.  Check your website to get the SEO score and know the traffic of your website before installing the SEO 2021 by Squirrly.
SEO 2021 by Squirrly helps you to bring more valid users to your WordPress site and helps to increase more clicks and triples your traffic score. You can see the success rate with the first week of installation. 
Features of Squirrly SEO 
Focus and deep keyword research
Attractive SEO Strategies
Best assistant for blogging
Better Audit for pages and metadata
Google rank check
Customer service support
8. MonsterInsights – Google Analytics Dashboard Plugin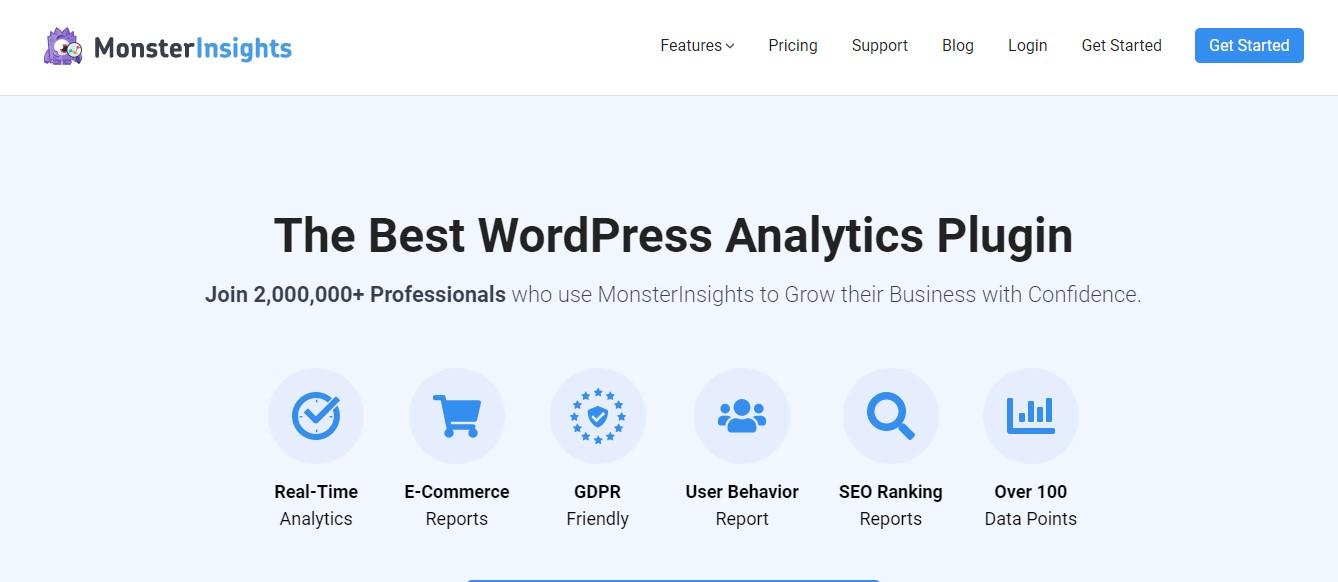 MonsterInsights is the popular Google Analytics Dashboard plugin doubles your site traffic value that reflects in your sales. You can improve business growth confidently with the help of the google analytics dashboard. After installing the google analytics dashboard plugin you can get track of all advanced SEO features in a few clicks. Now you can get all analytical reports like Audience report, Behaviour report, content report, eCommerce report, site speed report, and audit report.
Features of MonsterInsights Plugin 
Complete SEO tracking
Integrate with Google analytics and Google AMP
Google Analytics Custom Event Tracking
Focused Keyword Tracking
Analysis tracking for Facebook Analytics.
9. SEO Booster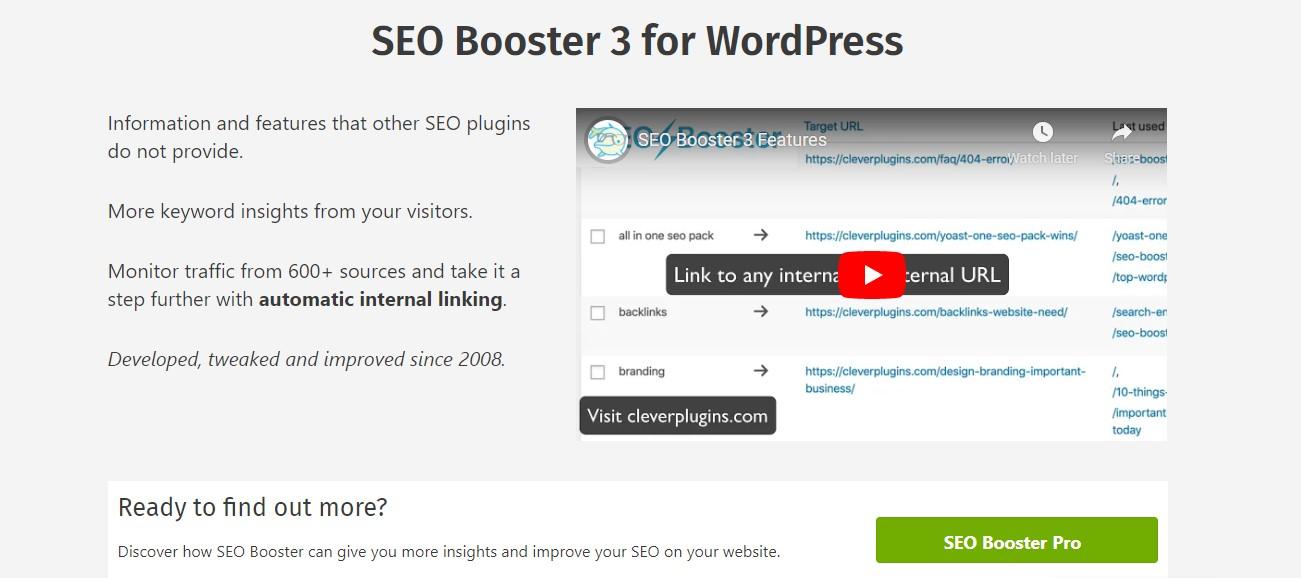 SEOBooster is a powerful SEO tool that seriously looking to optimize their WordPress website with an efficient SEO tool. Helps to discover new backlinks for your optimized content.
Features of SEO Booster
Automatic link generation
Automatic tags and categories generation based on the focused keywords
SEO Analytics report
Keyword tracking
Backlinks monitoring
Integrates with other SEO plugins like YOAST, SEOPress, and AIOSEO
Export 404 errors, keywords, and backlinks 
10. SmartCrawl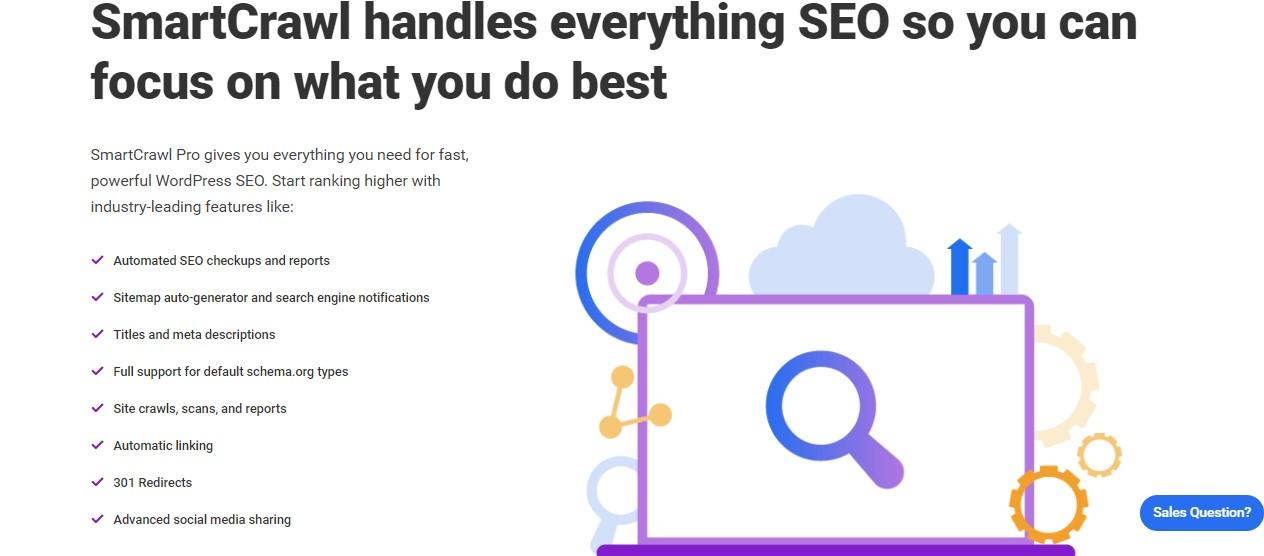 Optimize your site with the best SEO plugin called the Smart Crawl SEO plugin. Smart Crawl SEO plugin helps to boost up your SEO ranking and page traffic.
If you want to optimize your WordPress site properly then install Smart Crawl.
 Features of SmartCrawl 
Wizard setup
SEO tracking reports
301 Redirection
Automatic XML sitemap setting
Social sharing
Content Analysis 
Final Words:
SEO is the integration of WordPress sites, to get index and rank easier on the search engines. If you don't have enough time to spend on Optimization or you don't understand the SEO terms, then install the best SEO plugin for your WordPress site and configure it in a single click.
Author Profile

Jr. SEO Consultant, Blogger, & Content Specialist. Passion for writing in SEO, Digital Marketing & Tech-related Niches.