Content marketing write for us – Guest Blogging Opportunities to Boost SEO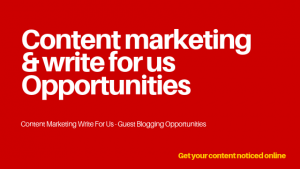 Content marketing is one of the best ways to facilitate a website SEO and increase the ranks. So, if you are looking for content marketing write for us opportunities, we have hundreds of websites that you can write for and get published you amazing content.
As you can see clickdo.co.uk is rapidly growing and one of the best digital marketing blogs and business services platforms.
Under the ClickDo brand we have many websites as well which you can see some below.
You can contact us for write for us contenting marketing opportunities. All the blogs are well maintained, and content will be published with perfectly done SEO. So, the content gets ranks.
You most probably found this page on Google or came from this page which ranks for write for us UK keyword and many more terms.
So, you can see how fast articles, pages rank higher on Google.
If you are a UK business owner or a SEO profession looking for a trusted website to publish articles and get the best visibility, www.clickdo.co.uk is a great platform.
We welcome business stories, for example a business story about your company, business would be greatly. However, it must be on the subjects or marketing, SEO, business services, Google and finance related articles. That's what will perform better.
UK business blog, will welcome more score so you can check or inquire form us for the write for us opportunities at the UK business blog.
We have the ClickDo internet marketing blog for global audience and you can write about internal business strategies and anything related internal things.
The Internet Home Business is also one of our thriving blogs which caters to the home business, start a home base business and a large work from home audience consumes the content. So, it's a great website for your content marketing.
How to write for us?
Check our blogs so you get an idea about what type of content we welcome.
Write 800 words of more article and send for us to approve
Inquire form us any topics in your mind
Ask what sites you can get published on
Your content will be audited by our content writers and let you know if they are approved
When sending the approved articles, we need at least one copy rights free images
The same content shouldn't be published anywhere else
So those are the 7 steps to write for us and get published.
Your brands/websites will get a tremendous boost once the articles are published and trust factors increases.
So, we invite content marketers to write for us today!
Please note that we do charge a publishing fee and handling fee for each publication.
If you are looking to get paid to write for us, you can contact Manuela Willbold or Dinesh and ask for further details about how you can become a content writer for ClickDo or our client's websites.
We are always looking for great content creators who can help us make the web a better place with well written user-friendly content.
Fill in the form below and let us know about you interest in content writing for us.