Quick Wasters Ltd. Clearance Company in London New Mobile Responsive Website Design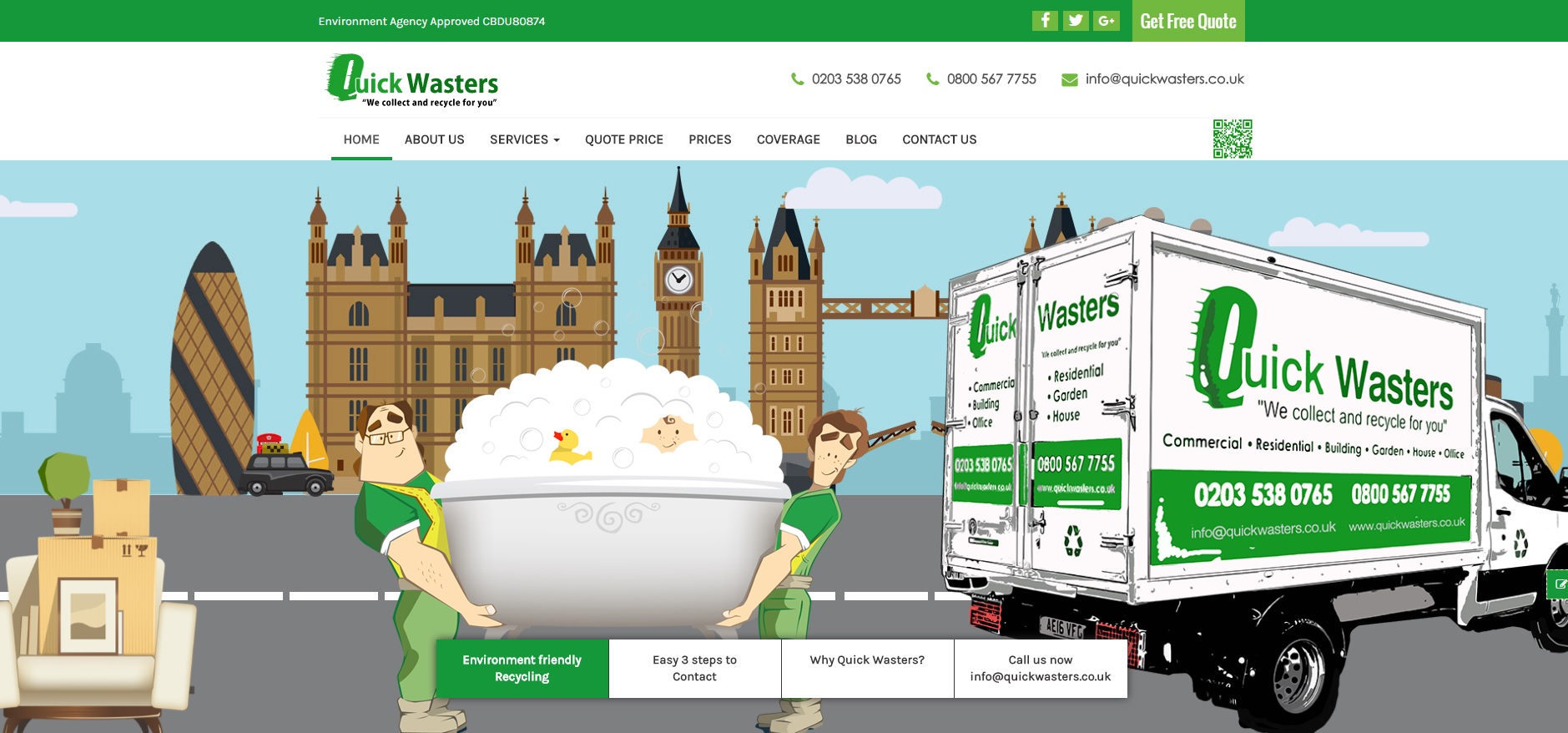 Last week we did the Quick Wasters Ltd. Clearance Company in London New Website Design and it was done by Kasun Sameera and developed by Madhura Darshana and Nuwan Lakshan Perera. The website mobile responsive looks amazing and it already indicated the love from the customers. We have kept the conversion optimization in mind when doing the new website for Quick Wasters Ltd. because that's very important for their industry in London.
Quick Wasters Ltd. was one of our early day clients who joined us back in February 2014, when I was starting my SEO journey as a freelance SEO consultant in London. You can see the journey and how Quick Wasters Ltd. website ranks on the web by now. Read > Quick Wasters: SEO Case Study – Building An Authentic Brand To Drive Organic Traffic From Search Engines
The old website can be seen here > https://clickdo.co.uk/portfolio/quick-wasters/ and that wasn't even mobile responsive. Just check on the way back machine and you will see what I mean. However our top notch SEO skills have ranked the site on the top for terms and now with the new website, Quick Wasters is back on the top of the map results for terms like "rubbish removal London" and even "rubbish clearance London" which is very positive new for the owner Ruwan Hettiarachchi
It took us all over a month to do the development work, and the final production looks amazing. The fast loading HTML5 designed website is fully mobile responsive to give the highest user experience to the people who will visit the website. Organic rankings on mobile devices should climb higher in the coming weeks. 
In the below video I talk about the Quick Wasters Ltd. Clearance Company in London New Website Design done by our great web team lead by Kasun Sameera.Madhura and Nuwan did an amazing work on this project to make it a top-notch success.
Quick Wasters – New Website Design & Development by ClickDo Team
With that being said, if you run a local business and look forward to get your business website converted to conversion optimized website, do contact us by filling form below.


.
Author Profile

The Founder & CEO of ClickDo Ltd. Writes about digital marketing and SEO for local businesses in International corporation. You can read more on OM HQ blog for more of my writings.