What is Blogging & how can you earn money online from Blogs?
Blogging is one of the best ways to start earning online and a top remote working job if that's something you would like to do.
In this detailed guide, you will learn what is a blog and how does it work and about getting started as a blogger and how to gain access to the free online blogging course where you can learn vital skills to become a successful star blogger.
After half a decade of studying the blogging industry and researching the best strategies and tricks used by the best bloggers out there, this guide was created for you. Take the time to read it and start your blogging journey.
Join The Free Blogging Course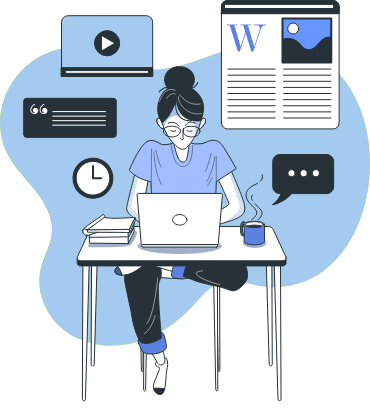 What is blogging?
Blogging is comparable to writing an online journal. However, it entails a lot more such as providing informative and well-researched contents, managing and running a website which is hosted and available 24/7 on the world wide web and marketing it. A blog is regularly updated and maintained by a blogger. You can think of it as an online representation of a blogger's interests and activities that's available for the public to read and view.
Some bloggers decide to use their blog to share their personal experiences and help others and some turn it into an online service platform, where they provide materials, tutorials or services to others. This is the beauty of blogging: you can be creative and really focus on what you love and are passionate about in many different ways.
This ultimate blogging guide aims to help you find your own unique blogging journey and to get started without delay. You will learn the most important steps to take from an experienced blogger and at the end you will get free access to our detailed blogging training course.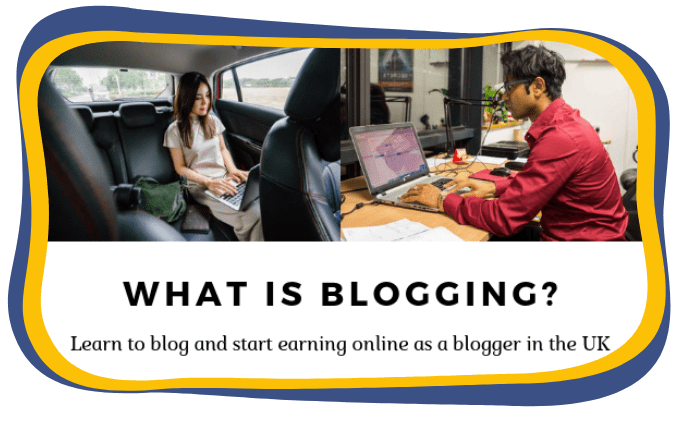 Blog definition and examples
Do you have an idea of what blogs are or what they look like? If not, then you are in the right place. In this piece, you will learn about the meaning and function of a blog through some examples of successfully run and managed blogs.This should inspire you and give you ideas for the realization of your own blog.
Definition of a blog
A blog can be defined as an online journal or an informational diary. A blog has its journals or posts arranged in a reverse chronological manner. The latest posts are found at the beginning of a blog. Posts or articles are created by a writer or a number of other writers where they share personal views, experiences, knowledge and skills on the platform. They may also provide opportunities for communication like forums or accept guest posts from other bloggers and writers. A blog is like a website and offers many additional features like ads, e-commerce options, social media connections and much more.
Reasons why people set up blogs
The reasons may vary, but the main reason people set up blogs is to earn money from them. They build blogs and later monetize them. Some people create blogs for their businesses, and others may build up blogs because they love writing, and they would love people to read what they write.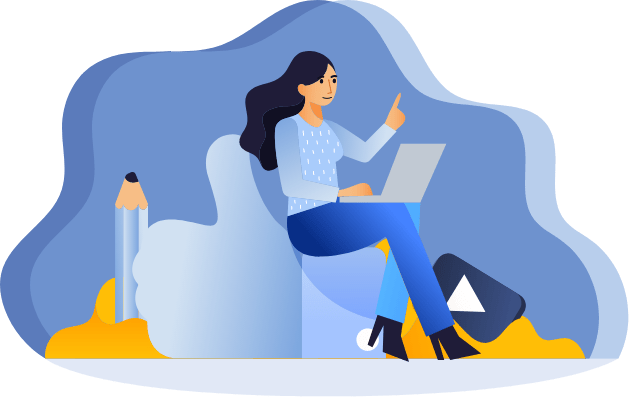 Who is a blogger?
A blogger is the person who mainly writes for the blog and manages it. This process is called blogging or online journaling.  Anybody can become a blogger as there are blogs in any niche, covering many topics. There are many bloggers in the world and you can read about top bloggers in the world to get more ideas about how they blog and build their successful blogs.
Why I started blogging?
Back in 2013 I (Fernando Raymond) wanted to know how to earn online and I discovered that some bloggers are earning a shit load of money online from their blogs.
I did more and more research and I was convinced I can earn from writing SEO friendly content and ranking blogs higher on Google.
I started to enjoy the writing and my first blog grew fast and traffic started to come from search engines.
I got to know many people through my blogging. People I never knew started to leave comments on my blogs and my first blog actually opened me doors to the digital economy as I was found by readers through their online searches.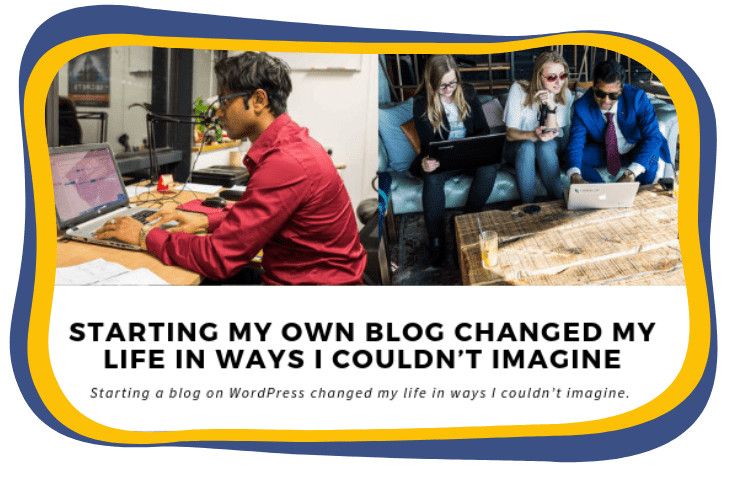 That's what got me started and today I'm running 5 companies online, including the UK Business Blog that gets a ton of traffic from the UK business community.
I started my own new personal blog in 2018 and did it as a case study. I share it all in the Blogging Demystified Facebook group. You can join it and learn how me and over 300 people are blogging to gain the latest techniques on making money online with blogging.
Nicole on Why start a blog?
Types Of Blogging Sites (Top 11)
When it comes to starting a blog, it is essential to choose the right type of blog suitable for you.

Before you even start, it's good to have an idea of what you want your blog to be about so that you can direct all your focus on the blog.
If you have two vastly different topics, you can run two separate blogs.
Due to the time and work it takes to grow a brand, the ideal option would be to focus on one blog until it grows.
Let's look at some of the types of blogs available:
Niche blogs –  A niche blog is a blog that focuses on one specific topic. These could be personal blogs based on certain topics and can turn into small business blogs due to the quality and knowledge users can attain from these blogs. Some topics include DIY, sports, cooking, wellness, health, finance, food, cars, music, movies, fashion, entertainment, lifestyle, and more.
Personal blogs – the perks of a personal blog are that it can cover a variety of topics and can reach a wider audience. Writers can talk about their daily life, travels, their hobbies, and any other topics that they would like to write about with the primary purpose of sharing things with their audience. There are no restrictions on what to post; you are free to do so at will as long as it doesn't violate terms of use or privacy policies.
How to create a blog and start blogging?
To get started you must set up a blog on the best platform for blogging with WordPress. WordPress is used by millions of top bloggers and it's easy to manage and SEO-friendly.
Having a WordPress blog will help you write blog posts easily and you can learn it online after you know how to start a WordPress blog.
There are many ways to start earning from your blog.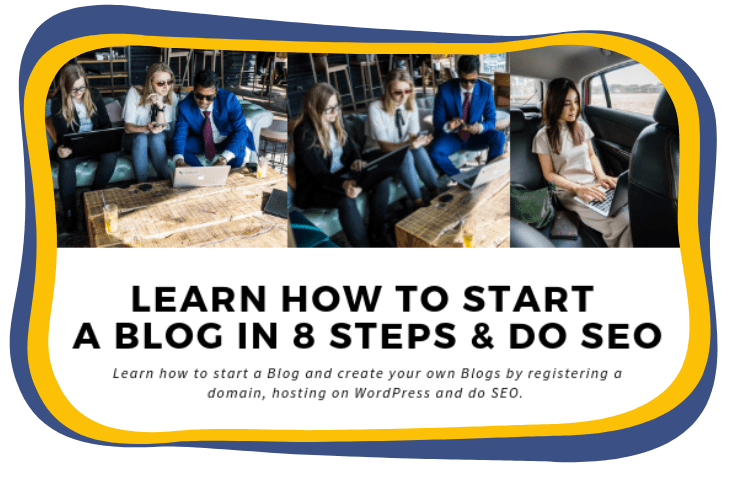 Why start blogging from home?
Read: How to earn $1000 per month online from your PBN so you will get some ideas and then let's set up a blog on WordPress and get online, because you are about to learn how to make a living from blog writing and content marketing skills.
Most people who start a blog with the dream to earn online fail due to their lack of knowledge in SEO, patience or having the right strategy to get their blog up on search engines to drive traffic.
These days you can get traffic to your blog from social media, but do you know how to do it in a manner that people actually come to your blog?
Do you know how I make money from this blog?
You can not even see Google AdSense ads or banner ads! So how do I earn from the ClickDo Blog?
That's for you to know in this long post, where I will share everything you need to know with you about earning online as a blogger.
I started with my first blog > www.fernandobiz.com/blog/ and I did monetize it with Google AdSense back in 2013-14.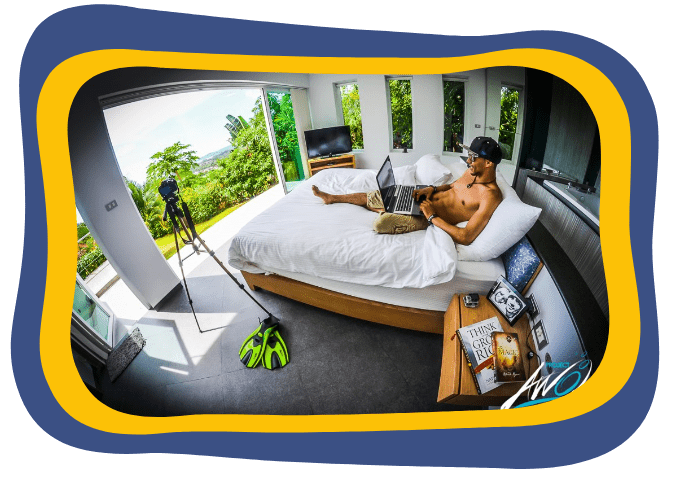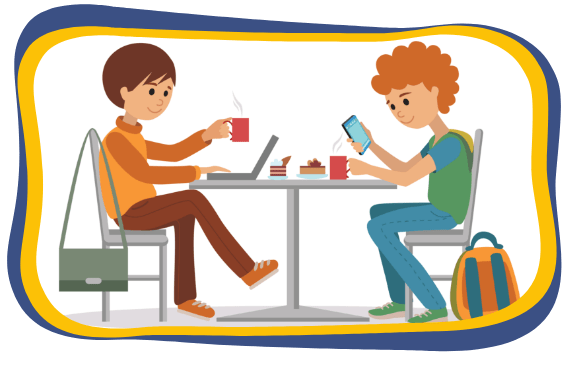 What Is The Best Way to Earn Blogging?
Start a blog right now and get online!
Most of you probably think you suck at writing! You know why? Because you never invest the time to write daily like I do at ClickDo.
My goal is to help 1000 people this year in the UK to start a blog and make money online. I've helped Manuela Willbold to start her own blog and she is writing to grow it.
And Neil Franklin started his blog and you can read his story about Starting a blog on WordPress: Why I decided to start a blog on WP (This blog)
Over the past 3 years, I've read many blogs and two of the blogs are ProBlogger and SmartBlogger that are making money and teaching people how to earn as well. Also, CopyBlogger is a great blog that will teach you how to make it happen online.
How to make money Blogging?
Strategic Approach to Earn Blogging
You will have to identify which niche you can write about, create content for and help people. In the below video Connor Sanders talks about the best ways to start your online journey in the UK as a blogger.
How to write blogs daily?
Now you have the initial know how, but I want to show you more details and strategies to make it easier for you to start your blogging income growing.
You must have some goals at the start and work daily on your targets. First of all, you must know how to write a perfect blog post, and this you can learn from UK top blogger Neil Franklin as he shares it all in this article.
Like any other job, this is hard work and only if consistently done for 6-12 months you will build a thriving blog, that will help you leave your job in the UK or create a nice passive income stream from your blog.
One of our clients, Matt Gingell, learned WordPress SEO Skills from me last year and grew his legal niche blog in the UK while working as an employment lawyer in London.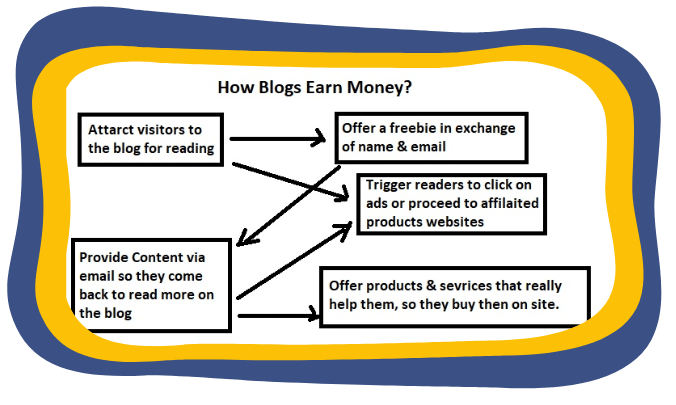 Top 4 Blogging Tips
If you already have a live blog and you think that it is not at the level you would want it to be, then it is time to learn new tricks for your blog to be successful. Below are some excellent tips you can use to improve your blog and maybe increase its success.
Understand your audience and get a few ideas from them.
If you have no idea on the niche you would want to blog in, try listening to what people on social media are talking about. In knowing the things they keep asking about, you will get an idea and choose a niche that handles most of the questions asked from your audience. By creating posts that influence them, you can be sure that you will be getting multiple and frequent visits. This is not a one-time occurrence, and you should always look for new ideas before deciding on what you want to post on your blog. After all, all you need is people coming to your blog. However, it should also cover topics that you are familiar with and can make useful contributions about or else you risk losing authority and credibility.
Create an email list as early as possible
An expert blogger and freelancer, Kristi Hines, suggests one should build an email list as soon as they start their blog. This will enable you to promote your new content without having to worry about online red blocks.
Value your current readers as you look for new ones
Many bloggers are so obsessed with finding new readers that they forget and ignore the ones they currently have. It is recommended that you often try to look for new readers but always remember to check on your current readers. Set aside time and spend it on them.
Blog consistently
This is what a lot of people tend to forget when they are blogging. Building up traffic is much harder than losing it, and lack of consistency will make you lose your hard-earned traffic very fast.
My story as a top blogger
You can read my full story of my blogging journey here. I grew from blogger to multiple blog owner and online business entrepreneur.
Today as I write this article, I've informed Kasun Sameera to create the domains for tech.clickdo.co.uk and education.clickdo.co.uk and you can see how those blogs are being built and monetized. Basically, we must offer value to the web readers, so we can monetize a blog in various ways.
You can see how I've got some ads on the sidebars and sponsored posts are a great way to start making money online.
Top 10 easiest ways to earn blogging:
Start a blog on WordPress
Write daily on your blog for 30 days. Ideally, 2 articles per day in your chosen niche
Create a social media brand for your blog on Facebook, Twitter and if you can do some videos, create a YouTube channel
Install Google Analytics, so you can analyse the traffic to your blog
Do everything it takes to grow your blog for at least 100 + daily unique visitors
Make sure the on page time is good and the bounce rate is less than 30% so your blog is attractive to potential advertiser's eyes
Create a page that states you take guest posts on your blog and mention the price
Email to business people who run businesses in the same niche and ask if they would like to publish on your blog
Start affiliate marketing and you can write about affiliate products after dealing with a commission percentage
Present some services you can offer to your blog readers. I did that by offering SEO services and you can still see how I got those SEO consultancy services mentioned on my good old blog.
So, those are the 10 easiest ways to start earning online from blogging.
Out of all the above affiliate marketing is a good way to start earning money with your blogging skills.
For me, offering services were and getting clients to my company was what worked well with blogging.
Now lets looks at some good ways and the best way to earn blogging.
3 Steps: Blogging for money
If you already have a blog, it is pretty apparent that you've already heard about monetizing a blog which means earning money from it. If you don't have one, you can go ahead and create one and then add relevant content to it.
After you are sure that your content is good, you can go ahead and look for ways to advertise your blog and have visitors on your blog. Once you have readers, you can easily monetize your blog and start earning from it. Below are methods you can use to start earning from your blog.
Place ads on your blog
Many bloggers started making money from their blogs using this method. There are two main types of ads. The CPC/PPC (cost per click or pay per click) and CPM (Cost per 1000 impressions). The CPC ads let you earn money when you place ads on your blog and you are paid every time a visitor clicks on it. The CPM ads, on the other hand, let you earn depending on how many readers are going to view your ads. You can use Google Adsense for placing ads on your blog.
Promoting or selling digital products
These products may include courses, eBooks, apps or even music. These too can help you monetize your blog and earn well with them. You can create your courses or eBooks, or you can also promote other people's digital products on commission.
Affiliate marketing
This is another common way that people use to make money using their blogs. Affiliate marketing means advertising a product that is being sold online, and if a reader follows the link you've set up on your blog and ends up buying the product, you will be paid a small percentage of the money made. An example of a site that offers affiliate marketing for bloggers is Amazon. However, you have to show a certain number of daily visitors to your page for some affiliate schemes.
Why start blogging in the UK?
Social media is a great place to share your views, but what happens if your views no longer fit a Facebook or a Twitter post?
What happens when you need a broader audience? This is where blogging comes in handy.
But do you know how to start blogging?
Do you know how to start a blog?
Well, if you don't know anything about blogging, then you are reading the right piece.
Below is everything you need to know, if you are thinking about starting a blog, but you do not know where to start.
Creating a blog
The first step is to choose your most preferred blogging platform. There are several different blogging platforms that you can use to build your blog. A few of these are WordPress, Tumblr and Blogger. You can choose any of them to start your blog.
A self-hosted blog or a free one?
This is one of the most critical decision you will make so think carefully. With the likes of WordPress, Tumblr and Blogger all offering free blogs, there is always an option of paying to host your blog. If you choose a free blog, it is also excellent, but you will have to face some downsides which will include:
Not being able to have your own domain
You will be limited on a lot of things. You will be limited in the number and types of videos and images to upload, and you cannot fully monetize your blog, on top of other limitations.
The blog is hosted on someone else's web property, which means they can do as they please with it. Some blogs have been deleted, and some continue to be erased, which means that all your hard work can go to waste if this happens to your blog.
It is better to go with a self-hosted blog if you are serious about blogging.
Create useful content
Once you choose your blog, it's now time to write all you wanted to write and post it on the blog. Your content should be relevant to your choice of niche and also remember to write what may interest people the most.
Tips to start a blog that matters
Read the: 10 Tips to Start A Blog and Earn Money Online Fast Blogging from Home
Build your blogs and start offering guest postings services on your blog. This is the best way to earn from your blog/s.
In the below video I explain to you how you can do that, or you can join the blogging course online to see how it's exactly done. (Click the image to join for free)
Free Blogging course online
(Click the image to join for free)